Printed from: http://petersburgcity.com/news/business/2015/09/07/SPb_China_070915/
Business news, 07.09.2015 17:36
Memorandum of cooperation between the Government of St. Petersburg and Shandunsky investment company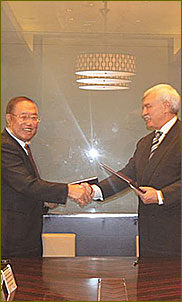 On September 4, 2015 in Beijing the Memorandum of cooperation between the Government of St. Petersburg and Shandunsky investment company is signed with the limited liability of "Dongbao". The document is signed by the Governor of St. Petersburg Georgy Poltavchenko and the president of the Dongbao company mister Van Gotsinem.
The memorandum fixes intentions of the parties to realize the construction project in St. Petersburg of the congress and exhibition centre "Druzhba", and also to carry out long-term and full cooperation in the field of preparation and realization in the territory of the city of investment projects in the sphere of transport infrastructure.
According to the document, construction of the Center is planned to carry out 8 starting turns with the termination in 2024. The project assumes creation of a park zone with objects of landscaping. Complex KVTs "Friendship" two towers – business centre with hotels 25 floors, high everyone will become proportionately. The area of the building will make more than 90 thousand square meters. On its exhibition and trade facilities, the business centre, hotels, parkings and other auxiliary rooms will be located. Now the issue of transfer to the investor of the land plot is resolved.
Investments into the project will make 34 billion rubles. The construction project of the Center got support at the level of the Government of China. Negotiations with the largest Chinese companies which on a platform of KVTs "Friendship" will present the goods and innovative achievements are already conducting. Georgy Poltavchenko noted need of expansion of the geography of exhibitors and attracted on a platform of KVTs of the companies from other countries of the Pacific Rim.
The day before in Beijing with the assistance of the Governor of St. Petersburg the general contract between JSC AGROPOLIS Severo-Zapad and JSC Chinese Metallurgical Corporation "Chzhen I" was signed. The contract is directed on implementation of the investment, construction project of a wholesale distribution centre "Agropolis" in St. Petersburg. The project is planned to realize within 5 years in three stages. It is supposed that the total amount of investments into the project will exceed 400 million US dollars.
News source: Administration of St. Petersburg