Printed from: http://petersburgcity.com/news/business/2015/10/14/SPB_Bahrain_141015/
Business news, 14.10.2015 12:36
St. Petersburg and Bahrain plan to strengthen the relations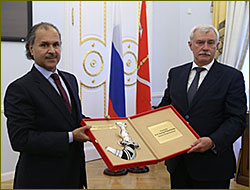 On October 12 in Smolny the governor Georgy Poltavchenko met the head of the delegation of the Kingdom of Bahrain, the governor of the Capital District of Bahrain sheikh Hesham Abdulrahman Al Khalifa.
Georgy Poltavchenko noted that in recent years the tendency of development of the relations between St. Petersburg and Bahrain was outlined. In particular, in 2014 the Memorandum of trade and economic, scientific and technical and cultural cooperation between the Government of St. Petersburg and the Capital governorship was signed (Kingdom of Bahrain). According to Georgy Poltavchenko, the capacity of St. Petersburg and Bahrain allows to expand the existing cooperation. Among perspective, he called deliveries of production of the enterprises of the Petersburg pharmaceutical cluster, implementation of projects on cleaning drinking and sewage. He noted that considers necessary to adjust a student's exchange between universities of St. Petersburg and Bahrain, and also to carry out cultural and business missions. Also Georgy Poltavchenko emphasized need of development of cooperation in the sphere of tourism.
Sheikh Hesham Abdulrahman Al Khalifa reported that Bahrain is open for the Russian businessmen. He stated interest in opening of the regular air traffic with the Russian cities. The governor of the Capital District of Bahrain also approved the idea of creation in St. Petersburg of the centre which would represent Bahrain and other Gulf States.
News source: Administration of St. Petersburg