Printed from: http://petersburgcity.com/news/city/2001/05/18/news251/
City news, 18.05.2001 12:38
Radisson SAS Hotel in St.Petersburg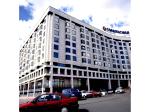 The first-class Radisson SAS Hotel will have 166 rooms, some restaurants, cafes, and fully equipped meeting rooms. There will be also a fitness centre in the hotel.

Other Radisson SAS hotels in Russia are: 1 in Moscow and 2 in Sochi.

Photo of Radisson SAS Hotel in Moscow by ITAR-TASS.

News source: IA "Rosbalt"