Printed from: http://petersburgcity.com/news/city/2001/05/18/news252/
City news, 18.05.2001 12:36
The building of Lutheran church in St. Petersburg will probably be handed over to Sweden.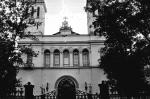 Such an agreement has been reached at 7th Russia - EU Summit taking place in Moscow. President Vladimir Putin declared that he had discussed the problem of handing the building of Lutheran church over to Sweden with Governor of St.Petersburg Vladimir Yakovlev. President of Russia has expressed the hope that Sweden in turn will grant a land lot in Stockholm to Russian Orthodox Church to construct an Orthodox temple there.

Photo by S. Belsky, ITAR-TASS

News source: IA "Rosbalt"