City news
The Naked Truth About Naturism
07.27.2001 12:30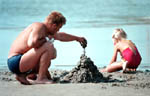 Welcome to the Dunes nude beach in Sestroretsk, about 30 kilometers northwest of St. Petersburg, where the only mandatory attire for the roughly 2,000 people who show up on sunny weekends is nothing but a confident smile.
"You know, I think, a nude body is more chaste than many too-revealing bathing suits that are designed to provoke desire," Rybina says bathing her tanned body in the soft rays of the evening sun.
All around her, nude men, women and children frolic in the sand and water. Others lay along the 150-meter stretch of the beach and bask in the sun's rays.
Not a tan line in sight.
The first local pioneers of the self-titled naturism movement appeared at the Dunes as early as 1957 or 1958, said Alexander Kotzov, President of St. Petersburg-based National Federation of Naturism, a private organization that supports and promotes naturism and nude recreation.
"For me personally [naturism] expands the borders of my inner freedom," said Kotzov.
The federation also oversees an 800-strong membership of nude bathers, all of whom receive identification cards. Photography on the beach is prohibited without special permission, to protect the rights of the bathers. The nudist community also works hard to minimize the intrusion of hecklers and peeping toms.
"We have a safe atmosphere here, and there's no sex on the beach, as some people may think," he said.
Kotzov emphasized in an interview at the beach Wednesday that one does not have to be a member of the federation in order to come and skinny dip. Everyone is welcome.
The atmosphere at the Dunes has not always been so relaxed, said veteran naturist, Kiril Vasiliyev, 42, who made his first trip to this beach together with his mother in 1973.
"I still remember times when the police rounded us up as 'infringers' of the law," Vasiliyev said.
"The police used to make special raids to the area to catch nudists and fine them," he said.
Back then, being arrested meant not only paying a fine, but also the possibility of trouble at work. The authorities normally informed on nude "hooligans" - as they were called then - at their places of employment.
Such reports usually led to petty harassment such as being declared ineligible for business trips or losing access to other company perks.
That changed in 1986, a year after Mikhail Gorbachev ushered in a far more relaxed political atmosphere, and the raids by police simply stopped, according to Kotzov.
In 1992, the enthusiasts managed to officially register the National Federation of Naturism, and the beach - nestled between the elite Beliye Nochi and the (unconnected) Dunes resorts, and enveloped by a pine forest - was granted official status.
According to Kotzov, most of the bathers who come to the beach are between 30 and 40 years old.
"That is probably the age when, psychologically speaking, people are willing to try something new," he said. "I don't think young people are ready to take the psychological step."
Many of the beach-goers told stories of their first experiences at the beach coming at that age.
Eleonora, 40, an engineer who preferred not to give her last name, has been coming to the beach since 1986.
"Nudity gives me more sun and liberates me from that wet rag called a bathing suit," she says basking in the sun near the water' edge.
Veteran nudist Vasiliyev said that he once tried swimming in a pool with a pair of trunks and found them to be like a heavy, protective suit.
Sergei Nikitenko, a former submarine officer, said he comes to the beach to revive his soul, but he notes that it is not for everyone.
"Naturism requires considerable efforts of will in order to step over social and psychological borders," Nikitenko said.
"For instance, although I've been a nudist for 12 years now, I still can't bring my wife into the movement. She came here once and took off the upper part of her bathing suit but never did that again," he said.
Others, though, were fortunate enough to find their soulmates laying naked on the sand at the Dunes. Rybina, for example, met her husband on the beach.
"I went swimming and found a nice little island. I was laying there and enjoying the waves," she said. "Then a stranger swam up to me.... The next day we got married and have lived together for four years now."
As she spoke, she pointed out her tanned husband laying nearby.
Over time, the beach has started gaining a reputation.
"I once overheard a resort visitor telling another that there are three places one definitely must see in St. Petersburg," said Kotzov. "The Hermitage, the Russian Museum and the nude beach."
News source: The Saint-Petersburg Times


Print this news
---
City news archive for 27 July' 2001.
City news archive for July' 2001.
City news archive for 2001 year.