Printed from: http://petersburgcity.com/news/city/2001/08/01/regatta/
City news, 01.08.2001 15:14
The fifth Petersburg sailing week starts August, 18.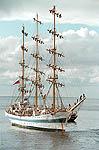 First sailing regatta was held July, 8 1847. Since 1898 it has been called 'Sailing week'. In 1997, celebrating 150th anniversary of this regatta, sport federation revived the tradition of the competition.

Sailing regatta is organized by JSC 'Saint-Petersburg Sea Port'.

Regatta will continue for one week.