City news
A find is made in Apraxin's palace in the Large Courtyard of the Winter Palace.
08.10.2001 12:34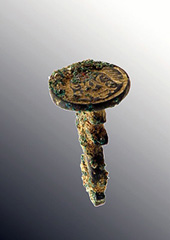 For several years now, members of staff belonging to the architectural-archaeological sector of the State Hermitage's Department of History and Restoration of Architectural Monuments have been carrying out work to study the cultural layer in the courtyards of the buildings forming the Hermitage ensemble. In the courtyard of the Winter Palace remnants of the palace of Fiodor Apraxin have been discovered. In the excavation where specialists are studying part of the ancillary buildings, on 7 August 2001 a bronze seal was found that dates from the first quarter of the 18th century. The seal was in a layer of sand and building rubble below a sub-floor dating from the time of the construction of the palace (1717–25).
On the round face of the seal, beneath a count's coronet is a monogram in which the letter "M" is plainly discernable. The surface of the metal needs cleaning, following which scholars hope to decipher the initials of the owner. The "M" may be the first letter of the patronymic of Admiral General Fiodor Matveyevich Apraxin. The seal's belonging to someone who had connections with the sea is indicated by the handle in the form of a dolphin. It is possible that Apraxin used this seal on his correspondence.
Fiodor Apraxin's palace was one of the first masonry buildings in St Petersburg. It was constructed on Admiralty Island by the architect Fiodor Vasilyev to a design by Jean-Baptiste LeBlond. Contemporaries observed that Apraxin's residence was "the largest and most attractive in all St Petersburg… The house is all furnished splendidly and in the latest fashion, so that a king could live decently in it." It was the former Admiral's House, that had passed to the treasury under the childless Apraxin's will, that Empress Anna Ioannovna (1730–1740) chose as her residence. Later it was reconstructed and enlarged in accordance with the wishes of Empresses Anna and Elizabeth. In 1754–62 on the same site Bartolomeo Francesco Rastrelli constructed the magnificent building of the present Winter Palace.
Work to study the cultural layer is also being carried out in the Large Courtyard of the Old (Large) Hermitage. The researchers are maintaining architectural observation, monitoring the builders who are laying utilities around the courtyard perimeter. Here traces (remnants of foundations and wall masonry up to 1 metre high) of buildings constructed in 1717–20 on three plots of land belonging to close associates of Peter the Great: Admiral Cornelius Cruys, Matvei Olsufyev, later chief chamberlain at the court of Catherine I, and Master of the Horse Koshelev.
The architectural and archaeological researches are continuing and promise to bring us new finds.

Print this news
---
City news archive for 10 August' 2001.
City news archive for August' 2001.
City news archive for 2001 year.