Warning: current() expects parameter 1 to be array, null given in /home/webs/city.air.spb.ru/system/advert.robo on line 24
News at PetersburgCity.com


City news

Business news

Culture news
---
Hot topics


Visa Support

"Stars of the White


Nights" Festival

"Day of the City"


program

---
Popular search words this week

---
Warning: current() expects parameter 1 to be array, null given in /home/webs/city.air.spb.ru/system/advert.robo on line 24

City news
Five peacocks were born in Pavlovsk State reserve museum
08.20.2001 17:37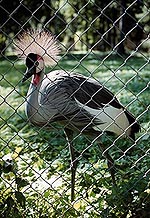 In early summer a couple of cranes and a couple of peacocks were brought here from Leningrad zoo, and a special open-air cage was made for them. Having accustomed herself to living in the park, a peahen started laying eggs and decided to hatch posterity. The family was at once allotted a separate dwelling - a room in guard house near the Roses Pavilion. Hatched little peacocks feel great - most of the day they stay under the mother's wing and leave this safe place only to eat. Reproduction of these rare for our country birds not at liberty is a unique fact.

Print this news
---
City news archive for 20 August' 2001.
City news archive for August' 2001.
City news archive for 2001 year.