Printed from: http://petersburgcity.com/news/city/2001/09/11/cadets/
City news, 11.09.2001 14:19
Vivat, Cadets!!!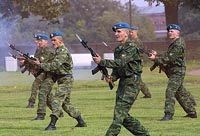 "Vivat, cadets" military patriotic festival was held in the Vasilievsky Isle Spit and Peter and Paul's Cathedral this weekend.

About 4 thousand pupils of Nakhimov and Suvorov military schools, pupils and students of military sport clubs participated in the military patriotic festival.