Printed from: http://petersburgcity.com/news/city/2001/10/12/apples/
City news, 12.10.2001 18:03
Finnish apple trees to blossom in St. Petersburg.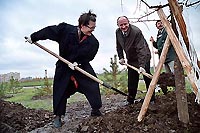 First 30 apple trees are planted in "Helsinki Garden", which was founded last summer in Park of St. Petersburg's tercentenary in Primorsky district.

They were brought to St. Petersburg by Helsinki's chief gardener Aari Eva Lisa and by director of one of Helsinki's administrative departments Pekka Virkamiaki. There will be 300 apple trees in the garden that will blossom in the jubilee year's spring. Thus, Helsinki gives the biggest bouquet on St. Petersburg's anniversary. The price of this unusual gift is 1 mln Finnish marks.