Printed from: http://petersburgcity.com/news/city/2001/11/12/memorial/
City news, 12.11.2001 18:59
Memorial Days were held in Tzarskoe Selo.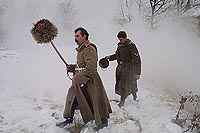 Memorial Days in the honour of Russian solders and officers perished in the battles of the World War I and the Civil War were held in Pushkin (Tzarskoe Selo).

The members of St. Petersburg, Moscow, Voronezh, Kiev and Krasnodar war and historical clubs gathered in memory of the dead warriors. They rose a field camp of the World War I epoch and staged an episode from one of the battles. Besides, during these days a dirge was served in honour of the dead warriors in the Common Cemetery and by the Monument of Nikolay II. Memorial Days were held in Pushkin at the fifth time.