Printed from: http://petersburgcity.com/news/city/2001/11/16/danger/
City news, 16.11.2001 18:09
The danger is over.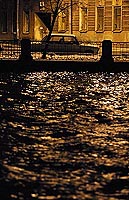 The storm warning in St. Petersburg was canceled today at 4 o'clock.

This time the maximum water rising came to 216 cm over the control mark. As the result, the Spit of Vasilyevsky Island, the embankment of the Karpovka River, Krestovskaya Embankment and the Ekateringof Park were flooded.