Printed from: http://petersburgcity.com/news/city/2001/11/26/light/
City news, 26.11.2001 17:38
The Fortress will be visible from afar.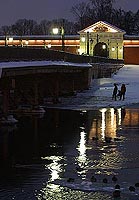 An inauguration of the Ioann Ravelin wall lighting (the Peter and Paul Fortress) will be held at the beginning of the next week.

The project "A Light Fortress" is a present of Menatep St. Petersburg bank for the city's 300-year anniversary. The total extension of lighting has come to one kilometer.

Special lamps capable to stand both 30-degree frost and 40-degree heat, protected from rain and snow, are already mounted on Nevkiye Gates, Flazhkovaya Tower, Nevskaya Quay, on the cathedral of the Peter and Paul Fortress.