Printed from: http://petersburgcity.com/news/city/2001/11/27/programmers/
City news, 27.11.2001 18:18
The smartest Petersburg programmers will leave for Hawaii.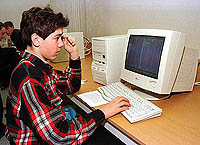 Today the semi-final competition of the 26th World Championship of Programming has started in Anichkov Palace.

A two-day competition will determine teams for finals, which will take place in March on the Hawaiian Islands. The best Russian team will be announced a Champion of Russia in programming. This year 58 teams from Russia, CIS countries and neighboring foreign countries will gather in Anichkov Palace. Altogether, about 2500 teams from leading universities of 70 countries are participating in the 26th World Championship.