City news
New Pulkovo airport regime of operations during the celebration.
02.19.2003 13:46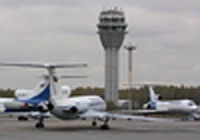 There will be no visa restrictions for the foreign citizens, who wish to visit St. Petersburg during the days of 300th anniversary celebration. This declaration was made by our city's Vice-governor, Alexander Prohorenko during his meeting with foreign airlines' representatives in St. Petersburg. According to him, there will be 134 hotels with total occupancy around 49 thousand persons, and additional 9 – 10 floating hotels, for another 3 thousand clients. At the same time, booking space in 4 and 5-star hotels, and first class hotels in the period from May 15 through June 5 will be realized only with previous agreement with President Hotel Federal State Unitary Enterprise in Moscow. He explained that the "restriction relating to these hotels is due to a large number of individuals escorting the members of the official delegations coming to attend St. Petersburg's anniversary."
Mr. Prohorenko noted that "the most intense days for the anniversary celebration will be the period from May 23 through June 1". The celebration itself was conventionally divided by the organizers into two uneven categories: city proper and "presidential". The Vice-governor noted that the festivities calendar for the first part of the celebration, which is due to be inaugurated on May 29, has been completely coordinated and approved. According to his data, the official inauguration will be attended by approximately 1500 officials – the delegations of the CIS countries, the heads of sister cities, the presidents of the federal structures. "Foreign participation is anticipated to be relatively small, about 40%", Mr. Prohorenko added. As to the second, "presidential" part, the Vice-governor reminded, that the events organization in this case is the responsibility of the Russian Federation Presidential Official service and the Mministry of Foreign Affairs of the Russian Federation. He stressed that for the first time St. Petersburg will welcome the heads of 45 states – the Big Eight countries, the European Union, the CIS, India, and China. According to Mr. Prohorenko's data, the main part events, attended by these officials will take place in Konstantinovsky palace, and in Peterhoff and Tsarskoe Selo palaces. Among the city celebrations, the high guests are expected to attend only the Neva water festivities, and Mariinsky palace gala concert.
The airline representatives, on the other hand, were also interested in the issue of Pulkovo airport regime of operations during the celebration. According to Mr. Prohorenko's information, the decision has been made already regarding the airport temporarily not handling the domestic arrivals from May 29 through June 1. This is because on May 30, Pulkovo-1 will be handling up to 120 special arrivals with official delegations. The decision regarding the international arrivals hasn't been made yet, said he. Although, A. Prohorenko thinks it is possible that those arrivals will be handled. "We understand the potential negative economical and political consequences of this. At the same time, the final decision, considering the security issues, will be made by the beginning of March," said the Vice-governor.
News source: www.300online.ru


Print this news
---
City news archive for 19 February' 2003.
City news archive for February' 2003.
City news archive for 2003 year.