City news
Saint Petersburg celebrated the 300th anniversary yesterday
05.28.2003 13:27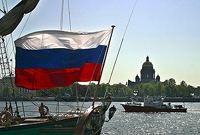 Saint Petersburg was founded 300 years ago today when Peter the Great laid the cornerstone of the Peter and Paul Fortress. The city was originally built as a sea-port but Peter also regarded it as a 'window on Europe' and the city quickly flourished into one of the cultural centres of Europe. Saint Petersburg was actually capital of Russia between 1710 and 1918 when the Bolsheviks came to power and Moscow became the capital once more.
The 300th anniversary of Saint Petersburg has raised the city's profile in recent months and there are hopes that international coverage of the anniversary celebrations will bring more European visitors to the city. Russian President Vladimir Putin is from Saint Petersburg himself and it has been suggested that some of the government ministries may return to what is still known as the 'northern capital.'
Many cultural and festive events have been organised in celebration of the city's anniversary. Foreign guests and heads of state have already arrived in the city and many have brought gifts to the city as a token of respect and friendship.
The beginning of the celebrations was announced by a peal of the bells. According to the order of St. Petersburg metropolitanate, published at its official website, all the temples of St. Petersburg chimed from 9:00 till 9:15. All the priests, who were not involved in the services of their temples, were invited to take part in the service in St. Isaac's cathedral and in the procession to the Palace Square.
During the night from May 27 to May 28 the Hermitage was opened for the visitors. Russian museums have never been opened at night before. This is a jubilee present of the famous museum to residents and guests of the Northern capital.
During this night the visitors had a chance not only to view the collections, but to listen to the Hermitage orchestra – St. Petersburg Camerata. Besides, Russian Arc, movie by Alexandr Sokurov, dedicated to the museum, was shown 5 times in the Hermitage theatre during the night. During two more days of the jubilee decade – May 28 and 29 – the entrance to the museum will be free. However, on May 30 and 31 – during the International Summits – the museum will close its doors for the visitors.
News source: www.rosbaltnews.com


Print this news
---
City news archive for 28 May' 2003.
City news archive for May' 2003.
City news archive for 2003 year.