City news
Bill to save green areas suspended at City Hall
01.09.2004 15:57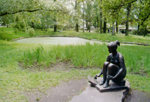 bill aimed at protecting green areas in St. Petersburg from construction projects that damage parks, gardens and lawns in the city is in suspended animation somewhere in City Hall.
The bill was passed by the Legislative Assembly in the final reading in December and sent to the governor to be signed with a deadline on Wednesday.
City Hall representatives said Thursday they had no idea of the status of the bill or what was happening with it. But Legislative Assembly staff and local environmentalists are convinced the law is under threat from city construction companies that don't want their hands tied by the restrictions the law intends to enforce.
The bill was originally passed July 2 last year, but was later vetoed and numerous amendments were requested by Alexander Beglov, acting governor at that time. Greenpeace said the amendments would have perverted the law. But on Dec. 17 the Legislative Assembly voted down most of the City Hall amendments and sent the bill to be signed by the governor, who has not signed it yet.
Boris Vishnevsky, a member of the Legislative Assembly for Yabloko, one of the factions that initiated the law to protect green areas, said it might be that the bill is stuck because under Matviyenko, who was elected in October, the process of approving documents in City Hall has started to take much longer.
"The main point of the law is to ban any sort of [construction] activity in gardens and parks in the city," Vishnevsky said in a telephone interview Thursday. "Construction companies, you see, treat any green spot in the city as an insult and look into the possibility of building something there.
"It could be [that the delay] is part of the routine mess at City Hall," he added. "Since Matviyenko took up office, the time taken to get an answer to a deputy's inquiry has increased to a month, while the law says it should be answered within a week.
"Some people say she wants to read everything personally to get a good understanding of the problems," he said.
"But she hasn't got enough time, so documents, which authorities are not able to deal with, are piling up on desks."
"There was a Legislative Assembly regulation abolished years ago that said if the governor did not sign a law within 10 days the speaker of the assembly has the right to sign it and to put it into a force. I wish this worked now," Vishnevsky said.
News source: www.sptimes.ru


Print this news
---
City news archive for 09 January' 2004.
City news archive for January' 2004.
City news archive for 2004 year.