City news
Icebreaker staying in the city
01.30.2004 13:31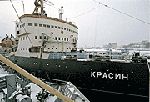 The famed Russian icebreaker Krasin will remain in St. Petersburg, Vice Governor Sergei Tarasov said at the meeting of the city administration on Thursday.
"The end of the Krasin's status as a state-owned enterprise won't mean the ice-breaker will be going to Kaliningrad," said Tarasov.Tarasov said the change of status was obligatory under federal legislation.
The icebreaker Krasin, formerly known as the Svyatogor, was one of the first icebreakers in the world. Built in 1916, it was used to free ships trapped in ice and explore parts of the arctic ocean. It participated in rescuing the Italian expedition of Umberto Nobile in 1928, and guided Arctic convoys supplying Murmansk during World War II. In 1992 it became a museum and a monument to the city's shipbuilding history, attracting many tourists. In 2002 the icebreaker came under the management of the World Ocean Museum, which is funded by the federal government and located in Kaliningrad. However, it was not owned by the museum.
St. Petersburg Governor Valentina Matviyenko on Thursday ordered the ownership of the Krasin to be transferred to the museum within two weeks. Tarasov said the transfer would triple the revenue available for the Krasin's upkeep. In 2002-2003 Krasin received 3.5 million rubles ($115,000) from the city budget. This year the federal budget will allocate 9.4 million rubles to maintain it, he said. However, it is not known where the Krasin will be moored. For the last few years the Krasin was moored at 22 Naberezhnaya Leitenanta Shmidta, 22, next to Baltiisky Zavod. At the administration meeting, the heads of the two city districts - Viktor Surikov of Kronstadt (located 30 kilometers west of St. Petersburg) and Alexander Yevstrakhin of the Vasileostrovsky district - fought for the right to locate the icebreaker on their territories, Interfax said. Tarasov said that the location of the icebreaker requires creating a mooring and deepening a channel for it, which would cost from 10 to 25 million rubles. Kronstadt already has moorings.
Svetlana Zaborovskaya, acting director of the Krasin museum, said Thursday that she had had no official communication about the fate of the vessel. Funding had been too little to maintain the ship and pay decent salaries to its 35 staff, she said, adding about 80,000 people visit the attraction each year.
News source: www.sptimes.ru


Print this news
---
City news archive for 30 January' 2004.
City news archive for January' 2004.
City news archive for 2004 year.