City news
New ferry lines to connect Saint-Petersburg to the European Union
03.12.2004 12:50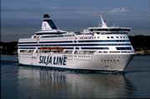 Passenger ships will run between St. Petersburg and Western Europe on a regular basis starting in April. Leading Baltic Sea shipping companies Tallink and Silja Line are spending millions of euros to launch their first ferry route to Russia. St. Petersburg's quickly expanding passenger marine terminal welcomes more investment.
When the Baltic states join the European Union on May 1, Russia will be an attractive destination for cruise line operators, who largely draw their revenues from duty-free zones.
Morskoi Vokzal is spending $3 million to update the customs infrastructure and even more on building repairs, Malik said. He expects passenger turnover to reach 300,000 this year and jump to 1 million by 2006, when terminal reconstruction should be fully completed.
Beginning April 2, Tallink will have its Fantasia ship - a refurbished 1979 model - leave St. Petersburg for Helsinki every other day at 5 p.m., proceeding on to Tallinn. Depending on the number of passengers, another ship - the Melodia - may be introduced on the same route, Mika Ahman of Tallink Helsinki said in a telephone interview on Thursday.
The lowest fare to Helsinki will be 25 euros per person. It will cost 50 euros to take a car on board. Cruise tickets allowing passengers to continue to Tallinn and back to St. Petersburg will be available for 40 euros. The Fantasia will arrive in Helsinki at 10 a.m. and depart for Tallinn at 16:00 the same day. Tallink will start marketing its new service on March 15.
Silja Line invested 10 million euros in renovating its Finnjet cruise ship, roughly 500,000 euros on building a modern gangway equipped with an elevator, and much more on marketing, a source in St. Petersburg said. The Finnjet will run about twice a week at 8 p.m. to Rostok via Tallinn, taking 36 hours one way since the stop in Tallinn will be limited to half an hour, said Yelena Karasyova, deputy director of tour operator E&S, one of several travel agencies already selling tickets on the Finnish ships.
The Finnjet's first cruise is scheduled for June 19. Since the crew on the Finnjet is more expensive, Silja Line's fares are double and in some cases even triple those Tallink charges.
News source: www.sptimes.ru


Print this news
---
City news archive for 12 March' 2004.
City news archive for March' 2004.
City news archive for 2004 year.