City news
Small hotels to provide for the accommodation of the budget travelers to the city
03.30.2004 17:24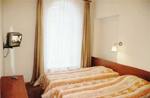 The lack of hotel space in St. Petersburg has been a hot topic for many years. Many experts say that opening small hotels is the answer.
Mini-hotels appeared on the St. Petersburg hotel market only two years ago. According to various sources, there are about 200 in the city. Many operate independently, and avoid competing with each other, experts said. Last year 3.5 million visitors to the city stayed at mini-hotels. In comparison, small hotels in major European cities handle up to 40 percent of travelers. Local operators hope St. Petersburg's mini-hotels will attain such volume.
St. Petersburg does not have real mini-hotel chains like those in the West, although several companies have started to build small hotels, announcing plans to expand into a chain: Mir Hotels Co. is setting up such a chain of apartment hotels. The first site is the building at 4 Gangutskaya Ulitsa, similar sites should crop up at 1/6 Preobrazhensky Pereulok and 1A Cheboksarsky Pereulok. Art-otel is planning to build a chain of small 3-star hotels. Trest Sevenergostroy Co. is implementing a plan to open small hotels in the historic center of St. Petersburg by refurbishing existing buildings. Over the past two years investors have become interested in low-rise projects in the city suburbs. Construction is underway on hotels in Pavlovsk, Kronshtadt and Repino.
Anichkov Most Co. will build a "camping" center in Sestroretsk where motorists on their way along the Gulf of Finland will be able to find accommodations. This plot of more than 3.5 hectares is located in a recreation zone near the town of Razliv - famed as one of Vladimir Lenin's hideouts before the revolution.
Last summer the Association of Small Hotels of St. Petersburg was opened with the goal of promoting the services of small hotels on the hotel market. Today the association unites about two dozen mini-hotels. This is probably the first professional association of mini-hotels in the city.
The city also has a Small Hotel Development Center that unites specialists who can provide advice to new owners of small hotels. The center hosts seminars and consulting sessions. Shelford Hotel director Alexei Musakin, one of the organizers of the center, said the main issues for consulting were identified very quickly and include relations with state supervisory agencies, legal and financial consulting, and also management and day-to-day operations. These questions are especially acute during the low season.
The Network of St. Petersburg Mini-Hotels, a company that provides management support, consulting and booking to small hotels, is working to solve this problem.
News source: www.sptimes.ru


Print this news
---
City news archive for 30 March' 2004.
City news archive for March' 2004.
City news archive for 2004 year.