City news
St. Petersburg parliament to give anniversary plaque to Pope
05.27.2004 14:31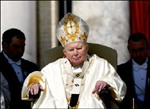 A delegation of deputies from the Saint Petersburg Legislative Assembly will be traveling to Rome for a meeting with the leader of the Catholic Church, the Pope. Members of the delegation include: Igor Rimmer, Vatanyar Yagya and Constantine Serov. Igor Rimmertold journalists that up till now only two Russians have been granted an audience with the Pope - Vladimir Putin and Sergei Mironov.
Rimmer also noted that the Pope's invitation is to pay tribute to the Saint Petersburg Legislative Assembly. Symbolically it is important that tomorrow is the birthday of the Saint Petersburg and Ladozhky Russian Orthodox Church leader, Metropolitan Vladimir. On the eve of departure Primmer visited the church leader and received his blessing to make the trip. The Metropolitan said, 'You don't turn down the Pope.'
The deputies will present the Pope with a plaque commemorating the 300-year anniversary of Saint Petersburg, prepared by the Saint Petersburg jewelry factory Alfa. The plaque consists of a commemorative medal made of silver and gold set in Indian granite. In the words of Rimmer, it is a unique plaque because the craftsmen who made it come from various religious confessions and did not take any money for their work. Rimmer also intends to give the Pope something, which in his words is even more valuable. The gift is a souvenir that a father made for his daughter who was dying from cancer. After the daughter's death, the mother gave the souvenir to Rimmer with the request to present it to the Pope.
The deputies' visit to the Pope is official and will strictly follow set protocol. 'We are practically done learning the ritual,' noted Rimmer. The first words from the members of parliament in their meeting with the Pope will be wishes for peace in the entire Christian world.
News source: www.rosbaltnews.com


Print this news
---
City news archive for 27 May' 2004.
City news archive for May' 2004.
City news archive for 2004 year.