City news
Rough Riders
07.01.2004 11:55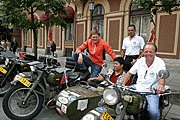 Indiana Jones and his father used one to outrun the Nazis. Now, Three Germans, two Englishmen and a Chinese mechanic have taken Chinese-built modern-day versions of BMW motorcycles with sidecars on a transcontinental journey from Beijing to Berlin, with a stop in St. Petersburg along the way.
The four motorbikes never fail to draw a crowd in villages and tiny towns along the route. Sometimes up to 300 people gather to gawk and stare at the comical-looking contraptions.
"Its just interesting. One, because we're foreigners and two, because we're a bunch of idiots on motorbikes," Richard George, one of the drivers, said with a laugh, on Thursday.
The bike riders are themselves something of a novelty. A motley crew composed of an executive chef, a foreign correspondent, a board chairman of a telecom company, a hotel manager, a photographer and a mechanic, the six middle-aged men could be called a collective embodiment of a mid-life crisis.
The road to Petersburg has been paved with everything from villagers, shocked by the arrival of men with white skin, to a naked woman in Kazan. From villagers to erotic dancers to the Russian border guards, these guys have nothing but good things to say about the people they've met along the way.
"The one thing I noticed in Siberia is just how friendly everybody is. They are just so nice, just lovely people - absolutely gorgeous," George said. "I've traveled my whole life and they're probably some of the nicest people I've ever met."
In fact, the group have become an odd symbol of peace.
Matthias Schepp, a sidecar passenger and former correspondent for German magazine Stern in Moscow, recounted how the group was embraced in a village that was once located on the front lines.
"A man helped us who still remembered the time of the war very well. They showed us the graves of German soldiers and told us who died there, where the front was," he said.
"I think this is just a wonderful incident after the German and Russian people warred so horribly twice in the past century and that so many people died and that now the people in this village treated us with their hearts and were ready to help."
News source: times.spb.ru


Print this news
---
City news archive for 01 July' 2004.
City news archive for July' 2004.
City news archive for 2004 year.