City news
Hero's Welcome for Sir Edmund Hillary
07.06.2004 12:42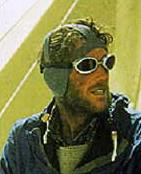 New Zealander Sir Edmund Hillary and Sherpa Tenzing Norgay, of Nepal, were the first to climb Mount Everest in 1953, when it was not known if the human body could survive the altitude.
Hillary went on to drive modified farm tractors to the South Pole and serve as New Zealand High Commissioner to India in the 1980s. Books about his feats were available in Russia in Communist times.
Asked if he had been impressed when Yury Gagarin became the first man in space in 1961, Hillary said he was.
"It was a very exciting moment all around the world," he said. "I had certainly no desire or ambition to do the same but I greatly admire the astronauts who succeeded in doing it."
"If I had been given the opportunity to go into space I would certainly have accepted it but I realize I didn't have the technical knowledge for that project so I stuck to the things that I did reasonably well - where there was snow and ice and rivers, all those things we have in New Zealand."
Arriving with his wife June on a cruise for two days in St. Petersburg on Sunday, just a fortnight before his 85th birthday, Hillary was met by Russian mountaineers, travelers, polar scientists and the New Zealand Ambassador Stuart Prior.
Artur Chilingarov, a polar adventurer and deputy speaker of the State Duma, welcomed Hillary and presented him with a certificate making him a member of the Russian Polar Society.
"We have great respect for you," Chilingarov said.
Hillary looked at the certificate and questioned whether it was really his name on it.
"Yes, it's in Russian," Chilingarov said. "Here you are 'Khillary.'"
Alexander Odintsov, who had just led an expedition that had climbed the North Face of Jannu in the Himalayas, said he was so delighted to meet Hillary that he did not want to wash his hand after shaking Hillary's.
Hillary said there are many things he would still like to do in life, but his old age prevents him from realizing all of them.
His main activities are fundraising for the Himalayan people. His efforts have helped to fund the construction of 27 schools, two hospitals, two mountain airfields and bridges across wild rivers, he said.
"This work gives me great satisfaction."
Told of the adventures and plans of local mountaineers and polar expedition members, Hillary said he envied them.
"It's fantastic what the young people are doing nowadays," he said. "There's better equipment and better techniques and I admire them greatly."
"But I still got to the top first," he added.
In May 1982, Vladimir Balyberdin, of Leningrad, as St. Petersburg was then known, and a Muscovite Eduard Myslovsky were the first two Russians to climb Everest (8,848 meters) along the most difficult, southwestern route.
News source: www.times.spb.ru


Print this news
---
City news archive for 06 July' 2004.
City news archive for July' 2004.
City news archive for 2004 year.