City news
Knights' Tournament went off in Priozersk Friday.
07.13.2004 12:34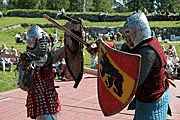 By Ruth Hetherington
SPECIAL TO THE ST. PETERSBURG TIMES
Photo by Alexander Belenky / SPT
PRIOZERSK, Leningrad Oblast - One of the disadvantages of being a 21st century knight is that without your trusty steed you may find yourself stranded and hostage to technology.
Several dozen knights missed Friday's afternoon activities at the Knights' Tournament in Priozersk, 180 kilometers north of St. Petersburg, because their train from St. Petersburg was cancelled.
However, the mood was ebullient in the 9th century fortress of Korela, as scores of enthusiasts gathered for a two-day celebration of medieval European weaponry and martial arts, which culminated in Saturday's re-enactment of the storming of the fortress by Russian soldiers in 1295.
"It's difficult to say which aspect is more important to us - history or martial arts. They're inseparable: they're both important and enjoyable," said Alexey Vaneyev, 24, a law student from St. Petersburg, who was going by his club name Sir Axei.
Vladmir Nasida, 24, a builder from St. Petersburg and member of the Knights of the Round Table club, said he enjoys studying medieval European and Russia history most, while for Pavel Kirillov, 24, also from St. Petersburg, "this is a sport. It's a Russian extreme sport."
The crowd cheered and heckled as the knights, heavily padded and wearing chain mail and helmets, took it in turns to display their swordsmanship and sang-froid. Each pair battled it out for 2 minutes on a raised stage in the center of the fortress.
The main rules are that the knights must avoid hitting their opponents' hands, feet and groin, and that the blows must be hard. The knights willingly oblige, but it's not only the fighting bouts and groans of pain that are authentic.
Klim Zhukov, 27, a historian from St. Petersburg and one of the organizers of the tournament, said historical accuracy is essential when it comes to costumes and weapons.
"We research original medieval sources and descriptions of tournaments. We make all our own weapons, chain mail and armor ourselves with the help of blacksmiths and we pay special attention to the weapon's construction, appearance, the materials we use."
The Association of European Medieval Martial Arts, or AESBI, the main organizer of the festival, shows just how seriously these boys take their history and their fashion.
All costumes must be made of natural materials. No modern clothes or shoes are permitted. A knight's weapons and costume should be from the same region and must not span a period of more than 50 years.
Unsurprisingly, given the level of physical strength required, there were no budding Joan of Arcs to be seen, although there were quite a few far from distressed damsels wafting around in full medieval dress, clutching cans of beer and bottles of Pepsi. The first such tournaments were held in Russia in the early '90s. Zhukov and Sergei Myasishchev founded the AESBI in St. Petersburg in 1994.
"We are based in St. Petersburg but we have partners all over Russia, from Vladivostok to Kaliningrad. We have international contacts too: in France, Poland, the Czech Republic - all over Europe," Zhukov said.
Lounging in the sun, a few contenders for best-dressed knight award struggled to define what attracted them to this intriguing mix of fancy dress and serious history.
A young Livonian knight stepped in chivalrously to save the day. "A man without a hobby is not a real man," he said solemnly. How very medieval.
News source: www.times.spb.ru


Print this news
---
City news archive for 13 July' 2004.
City news archive for July' 2004.
City news archive for 2004 year.