City news
Viktorov to Be City Architect
07.20.2004 12:30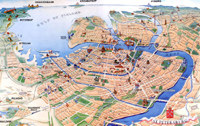 By Paul Burkhardt
SPECIAL TO THE ST. PETERSBURG TIMES
Alexander Viktorov has been appointed chief architect of St. Petersburg, Vice Governor Viktor Lobko announced on Friday.
Viktorov was chosen from 11 candidates by an expert committee, an unprecedented selection process to fill the position.
The vacancy occurred last month, after Governor Valentina Matviyenko announced that Oleg Kharchenko would be stepping down. Kharchenko accepted an offer to be rector of the city's branch of the Russian Art Academy, after serving 13 years under three administrations.
His tenure included allegations of bribery in connection with former Mayor Anatoly Sobchak and ended with playing an integral role in the preparations for a new second stage for the Mariinsky Theater.
Local media reported Monday that arts academy head Zurab Tsereteli has rejected Kharchenko for the arts academy position.
In the final deliberation late Friday morning, according to one source close to the committee, Viktorov was chosen over Yury Mitruyev, an architect recommended by the St. Petersburg Union of Architects.
Viktorov has worked as deputy head of the city's department for examining the technical and safety compliance of construction projects. He has also served on the committee for architecture and town planning for the Petrograd District.
"City architect is such a powerful position," Anatoly Seroka, business development director at international real estate company Colliers, said in a telephone interview.
The city architect has control of the approval or rejection of all major building projects, but must also walk the fine line between preservation and development, he said.
One unnamed member of the architecture and town planning committee said one objective of the new city architect will be to create conditions that allow the best architectural talent to work in St. Petersburg, the Fontanka news website reported.
When asked to evaluate Khar-chenko's achievements market players had a mix of reactions, suggesting some of the issues Viktorov may face.
"I think Kharchenko was quite political and had good relations with officials and did much manipulating to preserve the face of St. Petersburg, but did not respond to the modern requests of investors," Seroka said.
One unsuccessful candidate, Vladimir Grigoriyev, said that in retrospect he felt Kharchenko did well by erring on the conservative side and keeping new projects within the context of St. Petersburg architecture. But even as a fellow architect, working under the watch of the chief architect was not easy.
Grigoriyev was recently working on a project located across the street from Kharchenko's office.
When an elevator housing appeared on the roofline, "he [Kharchenko] phoned me and said, 'You should have that covered by Monday.' It was Friday," Grigoriyev recalled.
One major developer believes Kharchenko's downfall was due to acting too independently, not with architects, but within the administration. "He has been under pressure to leave for a very long time," said the developer, who requested anonymity, and explained that the search was for someone the administration would find more more malleable.
The criteria for the recent candidates included being a principal of their own practice and under 60 years of age. In architecture circles, it is only after 60 that an architect is seen as being in his prime. Viktorov is 49.
Historically, decisions made by the chief architect rarely please everyone. Preservationists and professionals took issue with some of Kharchenko's approvals to allow building that blocked famous sightlines. "Town planning has been sleeping for the last 10 years," Grigoriyev said.
City real estate agencies speculate that Kharchenko's exit was likely spurred by lacking a formal plan to develop the city. Viktorov will start from scratch in this regard.
But Kharchenko played a key role in the process to choose a foreign architect, Frenchman Dominique Perrault, for the Mariinsky Theater addition. That could already help satisfy one contingent for the new city architect. "I'm sure that if there is more openness, that investors will want to come to St. Petersburg and improve the investment climate," Seroka said.
Delovoi Peterburg reported Monday that Kharchenko had spent only one month as local head of the arts academy.
His job title had been acting rector, and only the deputy rector, Vladimir Pesikov, could fill that position, the newspaper quoted the previous rector Albert Charkin as saying.
News source: www.times.spb.ru


Print this news
---
City news archive for 20 July' 2004.
City news archive for July' 2004.
City news archive for 2004 year.