City news
Uproar At Honor For Putin
07.23.2004 13:35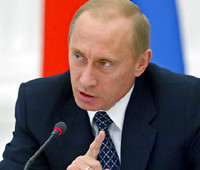 By Vladimir Kovalev
STAFF WRITER
Plans by Hamburg University to award President Vladimir Putin an honorary doctorate in economics for his efforts when he was deputy mayor of St. Petersburg in the 1990s have set off a furor in Germany.
Putin is likely to face protests on Sept. 9 when he will arrive in Hamburg, St. Petersburg's sister city, for the annual Russian-German summit known as the Petersburg Dialog. He and German Chancellor Gerhard Schroeder founded the summits in St. Petersburg in 2001.
Schroeder received an honorary doctorate from St. Petersburg State University last year.
During Putin's visit German students and politicians plan to organize mass protests against the award, saying it is inappropriate because in the five years of Putin's presidency the administration has violated human rights in Chechnya and deprived the public of an independent media.
The German Society for Threatened Peoples said this week that Putin is not worthy of the award and accused him of being a "Killer of a Nation," stating that during his presidency "80,000 Chechen children, women and men and 13,000 Russian soldiers have been killed."
"I ask you to resist giving the award to a man, who is responsible for the destruction of Russian democracy and the murder of people in Chechnya," said Tilman Zuelch, the secretary-general for the Society for Threatened Peoples in an open letter placed on the organization's website www.gfbv.de Tuesday.
In mid-July, 30 Hamburg University professors from the social sciences faculty asked the administration to abandon the plan to award Putin. The decision to give the award was taken by the university's economics faculty, but on the second vote after the first attempt failed to gather the necessary support of a two-thirds majority, newspaper Hamburger Abendblatt reported Tuesday.
"The necessary number of votes were mustered only after the argument was made that this would avoid getting involved in an even worse situation," the newspaper quoted a member of the faculty board as saying on condition of anonymity. One professor left the board after the second vote, having suffered a nervous breakdown, the paper said.
Wilhelm Strobel, a former economics professor at the university, reminded his colleagues that in 1980 the economics faculty considered awarding Helmut Schmidt an honorary doctorate. Schmidt was then German Chancellor.
"Back then we came to the conclusion that it is not a good idea to award politicians who were still in office ... Not to award Schmidt, but to award Putin - that would be quite strange," the newspaper quoted Strobel as saying.
Karen Koop, deputy head of the Christian Democrat faction that rules the Hamburg city government, blamed the spat on Schroeder, saying that if he had not accepted his honorary doctorate "it wouldn't be necessary to give another in return."
Karl-Werner Hansmann, vice-president of the university said: "Schroeder has not put any pressure on the university" and added that the award will be given to Putin for his work in St. Petersburg City Hall in 1994-1996. While Putin was "a deputy to the mayor and reformer Anatoly Sobchak he started large-scale economic reforms in Russia's Northwest," the Hamburger Abendblatt quoted Hansmann as saying.
Henning Voscherau, mayor of Hamburg in 1988-1997, and Klaus Asche, head of the Hamburg Chamber of Commerce in 1990-1996, came out in defense of Putin in a comment printed in Die Welt newspaper on Thursday.
"Vladimir Putin is a friend of Germany. He was a good partner 12 years ago. He was the man who forced Soviet and Russian border officials of Leningrad/St. Petersburg to let humanitarian aid from Hamburg into the country," Voscherau and Asche wrote.
"If Russia was still on a road full of potholes on its route to democracy, Russians would have elected not Putin, but [General Alexander] Lebed. West German democracy developed under the protection and with the assistance of Britain and the United States for 40 years. Isn't it easy to condemn from our comfortable positions?" they wrote.
In 1992, Putin pushed forward negotiations on the opening of the St. Petersburg's Currency Stock Exchange, signing an agreement with KPMG to provide consulting services for City Hall and assisting the opening of representative offices of a range of German companies and BNP-Dresdner Bank (Russia) office in the city, one of the first big international banks to operate in Russia.
But in 1990, Putin was at the center of a corruption scandal linked to humanitarian aid deliveries to St. Petersburg. A city council commission, set up by deputies Marina Salye and Yury Gladkov, the current vice speaker, concluded that Putin issued licenses to export non-ferrous metals valued at a total of $93 million from St. Petersburg in exchange for food aid from abroad that never came to the city.
The deputies recommended that Sobchak fire Putin, but the scandal was played down in the next couple of years.
Nicolas von Podlewski, head of the Hamburg University Students' Committee, said Putin will be met with protests when he comes to get the award.
Putin is to receive the award on Sept. 10, with German Chancellor Gerhard Schroeder and Hamburg Mayor Ole von Beust participating in the ceremony.
But it already looks as if he will be able to distance himself from the arguments. The Kremlin had no comment Thursday and could not say if Putin would participate in the ceremony.
"It's up to Hamburg University to award him, not us, and I think if they award him they know what they're doing," said Sergei Kovalyov, rector of the science department of St. Petersburg Financial and Economics State University, said Thursday in a telephone interview.
Putin has six degrees from different universities. In 1997, he defended a doctoral thesis at St. Petersburg Mining Institute, his future presidential campaign headquarters, on the topic that Russia's economic development strategy has been developed on the basis of a detailed analysis of its mineral and raw materials potential.
"The Germans are absolutely right," Yury Vdovin co-head of local human rights group Citizen's Watch human rights group said Thursday in a telephone interview. "It is nonsense when a democratic country awards [the president of a country] where the war in Chechnya has lasted for more then 10 years, where democracy is being brushed aside, where FSB takes everything into its hands."
"I am glad that there are 30 professors who can say the war is bad. This is a positive sign in conditions when there is no freedom of speech in this country. It says there is freedom of speech in the world," Vdovin said.
"At one time [Josef] Stalin wanted to be head of everything and everywhere, like a friend of sportsmen and so on. This guy [Putin] also can't resist the temptation."
News source: www.times.spb.ru


Print this news
---
City news archive for 23 July' 2004.
City news archive for July' 2004.
City news archive for 2004 year.