City news
City Girl Gets Gold in World Math Olympiad
07.27.2004 12:09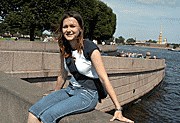 ST PETERSBURG TIMES
By Olga Kalshnikova
SPECIAL TO THE ST. PETERSBURG TIMES
Photo by Alexander Belenky / SPT
St. Petersburg schoolgirl Nadezhda Petukhova, 17, was not just the first girl in the Russian team to compete in this year's International Math Olympiad since 1998, she also won a gold medal.
Petukhova has just returned from the Olympiad, which was held in Athens on July 9 to 18.
She received her gold medal from Greek Prime Minister Kostas Karamanlis, who told her: "I'm so glad that you're a girl."
The overwhelmingly majority of the contestants - 84 countries entered teams of six - were male. Only four students succeeded in answering all 42 questions correctly.
Petukhova answered most of her questions correctly, and finished in the top 20 rankings for individuals. In the national contest, Russia came third, after China and the United States.
Petukhova also brought a living prize home from Athens, a cat she calls Pit that she found in the city.
Her road to the gold medal was not an easy one. Her schoolteachers didn't understand why she was concentrating on math, even though the school she studied at was associated with the Academy of Sciences and specializes in physics and technology.
Her classmate Sasha Safronova said the school had made life difficult for Petukhova.
"They made her retake all the tests when she returned from All-Russian Olympiad. Petukhova graduated from school with threes in some subjects," she said. "Nadya's victory was no surprise for us. In our class we had seven pupils who won All-Russian Olympiads. We are just sorry that she rarely was at school".
Petukhova is no stranger to mathematics: her parents and elder brother are mathematicians.
"Nobody asked me if I liked it or not," she said. "My parents just submerged me in math."
In some ways her preparation for Athens began when Petukhova was in the fifth grade. She entered district, city, and two national mathematical Olympiads and earned a place in the IMO team.
At the age of 11 she was part of a special class at the city's school No. 239 that coaches children for math competitions. When she started there were three study groups each of them had 30 pupils. In the end only 10 students graduated from it.
Other teachers prepare children for the IMO.
Competitors in the math Olympiad get no state subsidies, but those who compete at national and international level receive 2,000 rubles a month from the Potanin Fund, provided their grades remain high.
Travel costs have been met by the regional and federal governments, but are more frequently met by competitors' parents, Petukhova said.
Although the preparation involved a lot of hard work, Petukhova has several interests other than mathematics. She dances, graduated with excellent grades from a musical school, studies languages - English, French and German - and biology. She even thinks she doesn't study all that hard, but relies on her talent and that she is even lazy.
"I need to fill my life with something. Math is the thing that I know and do well. It's like a job. I don't feel sorry that I do it. But if there were no math, there would be biology or something else."
Her victory at the IMO was not so much a matter of good luck as of planning, Petukhova said.
"We worked a lot," she said. "It was largely thanks to our teachers Dmitry Rostovsky and Sergei Berlov. I couldn't let them down. And now they can be proud of us. We really have a very powerful team".
Petukhova said the IMO was prejudiced against the Russian team.
A St. Petersburg team had bad results last year and it was very important to show that Russia deserved its medals. This year Russian team members won four gold medals, one silver and one bronze.
Elite mathematics education in Russia is acknowledged around the world and in many cases the non-Russian teams were made up of children whose parents had emigrated from Russia.
"I felt like I was at in Russia," Petukhova said of the IMO. "Almost every team had Russian participants".
Oleg Golberg, who was in the U.S. team, had twice previously competed for Russia, a fact that made many Russian team members uneasy.
Petukhova's parents are very proud of their daughter and also think that IMO offers their daughter a good chance of getting a mathematics job abroad.
However, Nadezhda Petukhova said: "In the meantime I'm here and I don't know what will happen. For me IMO is just another step."
She left St. Petersburg on Monday to study at Moscow State University, which invited her to join its mechanic-mathematical department. "They tried to persuade me to stay in St. Petersburg but I chose Moscow. There are more ways to find a good job and to make a career there," she said.
On Aug. 9, she and two other girls, will leave to compete for Russia in the All-Chinese Women's Math Olympiad hoping to get more honors.
News source: www.times.spb.ru


Print this news
---
City news archive for 27 July' 2004.
City news archive for July' 2004.
City news archive for 2004 year.