City news
Beer Festival to Support Local Brews
07.30.2004 11:13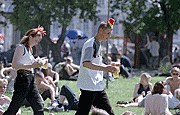 PETERSBURG TIMES
Beer Festival to Support Local Brews
By Sophia Kornienko
STAFF WRITER
Photo by Alexander Belenky / SPT
Only local breweries will be allowed to participate in the sixth St. Petersburg Beer Festival, which is expected to attract over 150,000 people to Krestovsky Island on Saturday.
This is the first year that imported beer will be excluded, which should aid the promotion of St. Petersburg's numerous brands, Yury Rakov, deputy head of the city government's committee for economic development said Wednesday at a news conference. The beer industry rakes in over 4 percent of the annual revenue to the city budget, Rakov said.
The festival does not bring profits to the brewing companies, said Andrei Rukavishnikov, marketing director of Baltika, one of the festivals four main sponsors.
No sales revenues made at the festival can cover the enormous organizing costs, and the festival is rather a "charity event," Rukavishnikov said. It is a gift that the leading breweries will be happy to continue presenting to the city, he said. Rukavishnikov refused to reveal Baltika's expenditure on the festival.
The festival's other sponsors are Vena Brewing Co., Stepan Razin, and Heineken, represented by its Russian brand Bochkaryov.
PIVOGRAD
Each brewery will occupy a quarter of the festival's total area, called Pivograd, or Beer Town. Baltika's quarter will feature Baltika No.3, Russia's most popular beer, according to the Moscow Festival's survey polls, and Baltika No.8, which won the 2004 Brewing Industry International Awards held this May in London. Baltika's Parnas brand, previously available only in bottles, will be offered in barrels.
Baltika's quarter will also have St. Petersburg's Zenit club give a master class as part of the festival's program.
Baltika produced 16 million hectoliters of beer last year, 1 million out of which were exported, with the company accounting for 22 percent of the Russia's beer market.
Vena, co-owned by Baltic Beverages Holding and Carlsberg Breweries A/S with 49.9 percent each, will offer Nevskoye Light, Russia's first low-calorie brand, targeted at female consumers.
Accounting for nearly half of the city's beer sales, Vena will also offer its recent hits - premium Triumph, non-alcoholic Kronverk, Tuborg Green and the light-alcoholic beverage Morsberry.
The city's oldest brewery, Stepan Razin, will feature its Petrovskoye brand, which accounts for 18 percent share of St. Petersburg's sales, Razin's PR manager Vladimir Gronsky said. Stepan Razin, marking its 210-anniversary next year, views the festival as the start of the company's celebration season.
Named after a famous Russian rebel who lived at the dawn of the Romanov dynasty, Stepan Razin will offer festival visitors the chance to have their pictures taken with a stylization of Razin throwing a kidnapped Persian princess in the Volga River.
Meanwhile, Vena invited Triplex to perform sound tracks to the nation's newly beloved bandit epics, Brigade and Boomer.
DRINKING CULTURE
"The beer festival should help improve the city's culture of beer drinking," said Batika's Rukavishnikov. In the West, he said, 40 percent of beer is consumed at pubs.
St. Petersburg still lacks a corresponding number of outdoor cafes and good pubs, Rukavishnikov said. The situation is changing for the better as breweries heavily invest in summer pavilions, providing them free of charge to the beer dealers.
Both Baltika and Vena, headquartered in St. Petersburg, view Moscow as their next strategic market.
Baltika, Vena and Heineken reported their growth rates largely exceed the national industry growth rates. At Baltika alone, the sales went up 14 percent in the second quarter of 2004 compared to the same period last year, while the national market's growth rates merely crossed the mark of 6.8 percent.
News source: www.sptimes.ru


Print this news
---
City news archive for 30 July' 2004.
City news archive for July' 2004.
City news archive for 2004 year.