City news
NATO in Baltics 'Dubious'
08.17.2004 12:15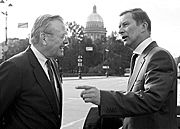 ST PETERSBURG TIMES
NATO in Baltics 'Dubious'
By Vladimir Kovalev
STAFF WRITER
Defense Minister Sergei Ivanov said NATO's expansion into the Baltic States is of dubious merit and, although Russia is not bothered by it, it fears NATO air patrols over the former Soviet republics could accidentally spark confrontations.
"From a military point of view, NATO military jets are no threat for Russia," he said Saturday. "The problem is not the planes, the geography cannot be changed even though they are capable of reaching St. Petersburg in 2 to 3 minutes."
"The thing is these four plans can not intercept al-Qaida, Taliban or anyone else," he added. "The only thing they can intercept is a mythical Soviet threat."
Ivanov was speaking at a news conference in St. Petersburg where he held three days of talks with his U.S. counterpart Donald Rumsfeld.
Estonia, Latvia and Lithuania joined the North Atlantic Treaty Organization four months ago and NATO aircraft have been guarding their skies ever since.
"It's not our business to discuss how the money of taxpayers from NATO member countries is spent," Ivanov said. "But the security of NATO has not improved with the Baltic States joining it. These countries are consumers of security, but not its producers."
Rumsfeld suggested that the Baltic States and Russia should sign an agreement to limit the presence of ordinary forces in the region to lower the risk of military accidents between the new NATO members and Russia.
Ivanov also attacked the Baltic States' view on the history of relations with the Soviet Union.
"From our point of view, the Baltic States have a poor human rights record," he said. "At least by the standards of European countries and the EU they do," he added. "The construction of monuments to SS servicemen is unacceptable."
He was referring to recent reports that Estonian World War II veterans are erecting a monument to soldiers who fought for the country's independence. The monument was inaugurated this month in Sinimae in Northeast Estonia, where an SS division comprising 70,000 Estonian troops fought the Red Army in 1944.
Estonian Prime Minister Juhan Parts has condemned plans by Estonian veterans to build more memorials for soldiers who served in the SS, which was the branch of the German armed forces at the forefront of war crimes in World War II.
"The time has come to understand that the time to build things like that has passed in Estonia," Interfax quoted Parts as saying Thursday.
Parts said he respected soldiers who fought for the freedom of Estonia, "however a memorial displaying a German soldier with a slogan 'for those who fought for a free Europe' has nothing to do with a historical reality."
Ivanov told Rumsfeld that Russia has no agreement to avoid dangerous military activity with the Baltic States even though it has such agreements with the United States, Norway and other NATO member countries.
Rumsfeld said such an agreement would improve security.
"This is quite a new problem," he said. "I absolutely agree that neighboring countries have to have agreements to avoid dangerous military developments. The U.S. has such agreements with many countries."
The men were speaking after The Washington Post recently reported that the Pentagon intends to relocate 70,000 to 100,000 military personnel from bases in Western Europe and Asia. A large number of troops will be sent to bases in the U.S. and some are to transfer to Eastern Europe, closer to Russia.
Changes in location and the numbers of U.S. troops stationed abroad are explained by the demands of the global war on terrorism and by new opportunities as technology develops, the newspaper reported Saturday, quoting anonymous sources in the White House.
Ivanov said Rumsfeld had informed him in detail of the Pentagon's plans.
Next month Russia and the U.S. plan to conduct a joint military exercise in the sea off Norway to check the level of cooperation between the two navies.
"Large forces of Russia's Northern Fleet will be involved in this training exercise," Ivanov said. "The main goal will be training on the operative compatibility of the Russian and the U.S. fleet."
The Russian minister also raised concerns about dangerous developments in Georgia, saying he expressed "certain fears and concerns which the Russian Federation has in this connection," but did not specify which.
"It is at least good news there was no shooting last night [Friday]," Ivanov said.
News source: times.spb.ru


Print this news
---
City news archive for 17 August' 2004.
City news archive for August' 2004.
City news archive for 2004 year.