City news
Gathering of Thousands Spurns Terrorism
09.07.2004 14:09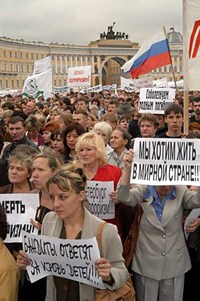 St Petersburg Times
By Irina Titova
Staff Writer
Photo by Alexander Belenky / SPT
About 40,000 people gathered in Palace Square for an anti-terrorism meeting following the Beslan tragedy on Monday.
"You Don"t Scare Us," "Ossetia, Beslan - We Are With You," "Terrorists Are Not People" read slogans printed on signs held by people of all ages.
"There are no words that can express our feelings about what the terrorists have done to the children and adults in Beslan," said Ilya Klebanov, the presidential envoy to the Northwestern region. "The terrorists are animals who should have no place in Russia or anywhere else in the world."
Mikhail Piotrovsky, director of the State Hermitage Museum said the Russian people need to "restore their faith in their country."
"This is a war in which all of us are the targets," Piotrovsky said. "We should understand why our enemies are not afraid of us, and why they know about us more than we know about them."
The famous St. Petersburg film director Alexei German called for ending the moratorium on the death penalty, so that terrorists could be executed.
"I cried just like you when I saw the pictures from Beslan on television," he said. "And I want to say that life imprisonment is not the punishment for people who shoot children in the back. They should be executed."
The crowd, made up of many students and state workers who had been encouraged to attend the meeting, applauded.
Yelena Arkovskaya, 46, a social administration official, said she came to the meeting out of solidarity with the victims.
"I can't even comprehend how cruel the terrorists were," she said. "However, I also don't understand how such thing could happen. Why didn't our federal forces prepare to storm the school?"
She now often feels uneasy in the subway and other public places.
"If I see a suspicious person in a metro wagon I prefer to get out of it," she said. "Once there was a young man in a subway wagon who temporarily moved away from the huge bag he had with him. The whole wagon was staring at the bag and people were really stressed."
Masha, 20, said she felt so anxious in Russia that she would like to leave the country.
However, another group of St. Petersburg students, who came to the meeting, said they were not scared.
"Terrorists target Russia because it's a strong country with strong people," said Dmitry Masurkevich, 17. "We've defeated Hitler and fascism, Napoleon, as well as other attackers in our history. We didn't fail. This time they want to break our spirit again but it won't work."
Yevgeny, 78, a World War II veteran, said terrorism had not existed in Russia when the Soviets were in power.
St. Petersburg Governor Valentina Matviyenko, who visited Beslan on Monday, passed on St. Petersburg citizen's condolences at a mourning meeting in the town.
Among the hostages in Beslan were two girls from St. Petersburg - a 6-year-old, Alana, and Anya, aged 12.
Alana is reported to be in the neurological department of the children"s hospital in Vladikavkaz.
Anya is safe and well and has returned to her home in St. Petersburg, NTV said.
St. Petersburg has, like many other Russian cities, been aiding Beslan victims.
On Monday, dozens of St. Petersburg residents donated blood for the people injured in Beslan.
The city's education committee has collected a container of equipment for the students of the damaged school.
The Mariinsky Theater, headed by Valery Gergiev, a native of North Ossetia, allocated five million rubles ($173,000) to support the families of the victims in Beslan.
The theater intends to direct all the money raised from charity concerts this year to a special program aimed at strengthening goodwill between different peoples and fighting terrorism.
"This program includes the creation of memorial and cultural projects throughout the world, including in Beslan and Vladikavkaz, with the help of the best musicians and actors headed by Gergiev," the Mariinsky's press service said.
The St. Petersburg Philharmonic Orchestra also donated 40,000 euros from its concert on Saturday to support Beslan residents.
News source: times.spb.ru


Print this news
---
City news archive for 07 September' 2004.
City news archive for September' 2004.
City news archive for 2004 year.