City news
New Standards at City Clinics
10.05.2004 13:39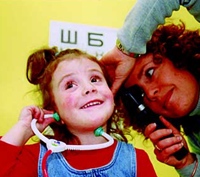 By Galina Stolyarova
Staff Writer
For SPT
Even ten years ago it wasn't uncommon for foreigners who developed a health problem in St. Petersburg to go to nearby Finland to treat it, especially in emergencies and for surgery.
Now there are several private medical clinics and hospitals in the city offering Western-standard services, treatment and facilities aimed mainly at foreigners. They are managed by foreigners and provide foreign doctors.
A number of local private clinics, including, for instance, MEDEM, Euromed, Scandinavia, British American Clinic and American Medical Clinic accept international insurance policies, which means that in most cases patients won't be asked for any additional cash payments. Euromed (60 Suvorovsky prospect, www.euromed.ru), for example, accepts policies from 150 international insurance companies such as International SOS, Global Voyager Assistance CIS, Europe Assistance and Merkur Assistance.
The only place offering Western family doctors locally is British-American Family Practice & Urgent Care (7 Grafsky Pereulok, www.british-americanclinic.com), founded two years ago. The clinic has two British doctors - Dr Sarah Basham and Dr Joanne Thompson - working on a regular basis as family practitioners. In the tradition of American- and Western European-style medicine, they are family doctors with a broad basic knowledge, able to handle 90 percent of all examinations, tests and treatments at the clinic, and requiring specialists' assistance only in 10 percent of cases. The clinic does international direct insurance billing for virtually all international insurance carriers.
The British American Clinic and Center for International Emergency Medicine of the University of California and Los Angeles have an exchange program that brings fourth year Emergency Medicine Specialists from one of the busiest emergency rooms in the United States directly to St. Petersburg. "These doctors are the most highly trained emergency medicine specialists in all of Russia," said clinic's director Kurt Stahl. "In Los Angeles, they handle everything from simple cases - sore throat and small cuts - to life-threatening trauma, heart attacks and gunshot wounds. While in St. Petersburg, they handle all of our clinic's emergency cases including evacuations and hospitalizations. The specialists also offer daily classes to the clinic's permanent staff on the latest medical emergency techniques and knowledge from one of the finest learning institutions in the world."
The presence of foreign doctors is not the main difference between the British American clinic and most Russian clinics. "The difference is the overall philosophy that relates to medicine," Stahl said. "In Russia, doctors are typically trained as narrow specialists, whom patients consult with a specific problem, whereas in Western Europe and the US doctors are trained as general specialists."
The largest full range medical facility in town is the impressive MEDEM Clinic & Hospital (6 Ulitsa Marata, www.medem.ru), with 2000 kinds of medical services provided by 300 doctors in a spacious, 7,500 square meter facility. "As our community grows and changes, we're committed to growing and changing with it," said the head of MEDEM's PR, advertising and marketing, Tatyana Kochubeyeva.
"That's why we've spent over $20 million to build this state-of-the-art medical facility, which houses some of the most modern clinical technology in Europe."
MEDEM's 24-hour Assistance Department handles insurance claims for foreign and Russian insurance and assistance companies as well as organization of medical evacuation, visa extension or accommodation.
While most doctors come from Russia, MEDEM's medical personnel includes specialists from the United States and Denmark. English, French, Danish, Spanish, German and Italian are spoken at the clinic.
As you may have guessed from its name, doctors at the Russian-Finnish Scandinavia Clinic (55A Liteiny Prospect, www.avaclinic.ru) regularly train in Scandinavian countries. The clinic, which opened last year, also offers a family approach: adult and pediatric sections situated under the same roof.
Foreign investment in Scandinavia exceeded 10 million euros, with 2.2 million euros coming from the World Bank (its first medical project in the city). The 69 doctors in Scandinavia's adult and pediatric wards have the opportunity to consult with Finnish counterparts in real time via telemedical equipment.
A smaller Russian-Finnish clinic, AVA-Peter - owned by the same Finnish company, Scanfert, which holds the majority of shares in Scandinavia - works together with Scandinavia. For instance, some of the blood tests taken at AVA-Peter are processed in Scandinavia laboratories.
Euromed offers family practice, dentistry and emergency care as well as providing assistance in solving related administrative problems like arranging visa support, evacuations, and sorting out local accommodation. Euromed Clinic currently employs over 20 doctors with international experience or training. The clinic's medical director Dr. Alexander Abdin is a United States licensed physician.
"At Euromed Clinic we pay special attention to customer service and customer support. We have implemented and now constantly develop our exclusive computer system that helps us monitor and optimize all business process within the clinic," said Alexei Lazutin, Euromed's clientele network manager. "Among other advantages, it allows us to keep patients' waiting time within five minutes, if an appointment was made in advance."
Another option, frequently used by foreigners is Poliklinichesky Complex at 22 Moskovsky Prospekt. The former Spetspoliclinika No.2 (Special Clinic No.2), it was opened in 1948 and designed to treat local Communist Party bosses. During the Soviet years, when private clinics didn't exist in town, the clinic served all foreign diplomats. A number of local consulates have kept the tradition alive and still treat their staff at this inveterate medical institution, which has since updated their tools to modern, advanced, and mostly Japanese equipment. "These days our services suit all pockets; we have a very diverse price range," said Maria Mikhailova, head of the complex's PR and marketing. "Our clientele varies from pensioners with modest incomes to well-off customers treated at the VIP division."
However, Alena Nekrasova, head of PR and marketing at the Virilis insurance company warns against absolute trust of any of the local clinics. "The top-level clinics do provide Western quality of service," she said. "As for the quality of treatment, many doctors were trained under the Soviet system and have kept the Soviet mentality, which is not what foreigners would expect from a Western-style clinic, so it all very much depends on qualifications of the particular specialist you are seeing."
Showing up at the nearest available clinic in town definitely means taking risks. A young Austrian teacher Stefan, who went out to get a beer on a Saturday night last month in central St. Petersburg, was attacked on a street and lost consciousness. He was taken to the nearest duty casualty unit with a bleeding head wound only to find a drunk doctor and an equally drunk guard. "The only sober person there seemed to be the medical sister," said Stefan's friend and compatriot Manuela Muhm. "The guard then asked Stefan if he knew where they could get some more beer! Stefan had concussion, and the medical sister applied disinfectant and a basic bandage. They didn't sew up the wound. It was done the next morning in a hospital."
News source: times.spb.ru


Print this news
---
City news archive for 05 October' 2004.
City news archive for October' 2004.
City news archive for 2004 year.