City news
Women's Club Provides Companionship, Community
10.12.2004 11:34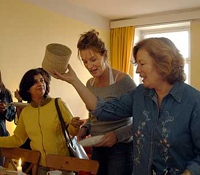 By Jennifer Davis
Special to the St. Petersburg Times
Photo by Alexander Belenky / SPT
The St. Petersburg International Women's Club means many different things to its many different members.
To some, it's a social club, a place to meet other English-speaking women with similar interests; to others it's a support network, providing a wealth of advice for foreign women experiencing the sometimes difficult transition to the Russian culture and lifestyle; and still to others, it serves as a organization raising money for the city's various charitable organizations.
But for most, the International Women's Club (IWC) is a combination of all these things and more.
Founded in Leningrad in 1986, the IWC is a non-profit, volunteer-driven organization comprised of both international and Russian women, which aims to welcome and assist all English-speaking, international women living in St. Petersburg and to foster communication with sister Russian nationals. The current membership is about 100. The majority of members are foreign nationals, but club membership is also open to Russian women married to foreign men and a few select English-speaking Russian women whose memberships are recommended by current members.
The club's charter allows Russian women to constitute to 20 percent of the membership, as opposed to the International Women's Club in Moscow, where Russian membership cannot exceed 5 percent. The St. Petersburg IWC is entirely independent and is not affiliated with any other international women's club worldwide.
"Transitioning to a new culture, being unable to express yourself in the local language are some of the greatest challenges international women face here," said Carolyn Coram, President of the IWC. "The language can be a big stress for foreigners because you want to live the independent, intellectual life that you know you are capable of living and when you don't know the language feelings of helplessness abound."
A former elementary school principal from North Carolina, Coram first came to St. Petersburg in 1996. From St. Petersburg she moved again with her husband, Clint Coram, director of engineering services at JTI-Petro, to Geneva, Switzerland, where she served as President of the American International Women's Club.
In 2000, the couple returned and Coram joined the executive committee of the IWC first as recording secretary and now in her second year as president.
"I have found that the club has enabled me to operate as an intelligent person again - a person capable of finding resources, making decisions and acting accordingly," she said. "Most of our women, I would say at least 80 percent of our membership, have had professional lives. Many of them have been forced into early retirement and that can be very difficult. This, combined with the lack of Russian language skills, can make a once confident woman feel dependent and inadequate."
One way the IWC helps women settle and start functioning in St. Petersburg is by producing an invaluable, constantly updated resource called the "IWC Tips Book." Containing loads of useful information on everything from visa support to English-speaking tailors, many grateful members refer to it as their "bible."
"An important aspect of the club is this sharing of resources and information," Coram says. "It can be extremely frustrating when you first arrive. Where do you buy your groceries? Where do you find a good repairman or a picture framer? The Tips Book and IWC members can help you find solutions."
A native of Budapest, Hungary, IWC Vice President, Csenge Bosse never imagined that she would have to make so many adjustments to the Russian lifestyle when she moved here two years ago. She married her husband, Gerhard Bosse, Resident Manager at Grand Hotel Europe, in St. Petersburg last year.
"I was born in a Soviet-bloc country. I studied Russian in school. But I was lost when I first came here," said Bosse.
"My husband and I were living far outside the city. I didn't know anyone there and I had no activities. Finally, we moved to the center and I met [IWC members] Jane Helms and Ariya Leitzke and my whole perspective on the city changed. After joining the club, I'm absolutely looking forward to staying here another year."
In fact, Bosse is writing a book in Hungarian about her unique experiences in St. Petersburg, including the time her husband boarded a downtown trolleybus and sat down next to a live bear and his handler both on their way to the Strelka. "The bear was on his way to work," she said laughing.
IWC member Irina Ventsel emigrated from Leningrad to the United States in the mid-70s. After marrying an American journalist whom she met in New York, the two settled down in Milwaukee, Wisconsin. When they both retired in 2000, they decided to return to St. Petersburg. A former speech therapist, Ventsel joined the IWC as a way to establish contact with women in the international community.
"I had been living in the United States for the last 25 years, and although I was happy to be back in my native city and reestablish relationships with old friends, it was still important to me to have international, English-speaking friends," Ventsel said. "The IWC is a great way to meet people."
Ventsel is also one of the most dedicated volunteers in the club and often arranges visits to hospitals and orphanages for other interested women. The IWC holds several fundraising events throughout the year to raise money for social organizations in the city and the Northwest region.
Every organization they support is visited and monitored by the chairman of the charity committee Odilia Hoeks-De Ranitz, the wife of Dutch Consul General Eduard Hoeks, to ensure that the club gets a clear sense of the needs of a particular organization and that the funds and/or donated items are put to proper use. The IWC is also home to several special activity groups that meet individually weekly or monthly. Peter's Tea is one of the most popular events. Held every Thursday in a member's home, Peter's Tea is purely a social affair where members get together to meet and greet each other over tea and biscuits. Members and guests pay a small fee that is later donated to charity.
Other interest groups include 'International Cuisine' cooking class, arts and crafts, Hermitage and Russian Museum tours, ballet for adults, book club, bridge, and even a painting and drawing class.
"The long, gray winter in St. Petersburg causes the greatest difficulties for our members," Coram said.
"So we try to increase the amount of club activities during the harshest months. In January and February, we will be preparing for our annual Spring Fair on April 9."
The IWC is always open to new faces and fresh ideas and members regularly form new groups. As Honorary President, Betty Hughes, the wife of the U.S. Consul General Morris Hughes, said at an open meeting in the Renaissance Hotel in September: "Every woman is unique. This club is for you. Think how you can contribute to it."
For further information, please direct inquiries to iwcsp@hotmail.com
News source: times.spb.ru


Print this news
---
City news archive for 12 October' 2004.
City news archive for October' 2004.
City news archive for 2004 year.