City news
Worldly Hotelier Explores Russian Hospitality
10.21.2004 12:36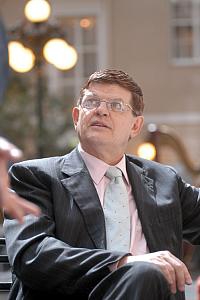 The Moscow Times
By Sophia Kornienko
Staff Writer
Alexander Belenky / MT
Blin says he has serious plans for promoting his hotel and St. Petersburg in the West.
ST. PETERSBURG -- Since graduating from a hotel management school in France 35 years ago, Henri Blin has not held a single job in France.
Before he was invited to work as general manager of St. Petersburg's Grand Hotel Europe, Blin had lived in Monte Carlo, Cameroon, Tunisia, the Philippines, Indonesia, Thailand, Saudi Arabia and the United Arab Emirates.
Blin arrived in St. Petersburg in January this year, on the coldest day of last winter. After landing at what Blin called "a nice provincial airport" -- Pulkovo-2 -- he got a chance to experience the local climate for the first time, for he had never been to Russia before.
"Other job offers I received were in Morocco and Lebanon -- both countries I had been to before," said Blin, who spent the past 12 years in the heat of Dubai as the regional vice president of operations at Intercontinental Hotels, United Arab Emirates. "I like change. Cultural change, change of work," he said.
Blin is also very fond of his new city. "There is something magic about the words 'St. Petersburg,'" he said.
Blin's interest in the city was sparked long ago while he was a schoolboy.
"In school, what we learned from Russian history was mostly beginning from Peter the Great until the Bolshevik Revolution. We learned about the cultural exchanges between France and Russia that happened after the Napoleonic Wars."
Several months after he came to work in St. Petersburg, Blin is not disillusioned. Russian hospitality was a true discovery, he said.
"It is not what they give, it is the way they give it," Blin said of Russian hosts.
Blin's second pleasant discovery was the beauty of local women -- something he had never seen to such an extent in all his other travels, he said. When asked what he thought of Russian men, Blin said he did not look.
Blin, who has an Asian wife, said he discovered that he was highly adaptable to foreign cultures ever since his first internship abroad, in England. There must be something in his genes -- all three of his sisters got married to foreigners, and one of his brothers-in-law was Russian.
Blin said his family has more Russian friends in St. Petersburg than foreigners. Meanwhile, he has been taking Russian classes and is in the stage of trying to put his sentences together, he said.
However, Blin said there is an imbalance between Russians' private hospitality and the ways they welcome guests in public places. In public places, Russians are much more reserved, he said.
"The good news is that it is changing fast for the better," he said. "And it is up to us -- the managers -- to provide the appropriate training to the Russian staff, so that they learn to apply the genuine feeling of hospitality that everybody has here to the thousands of guests we receive every day."
"I don't teach people. I want to enhance what they already have inside by explaining the guests' expectations," Blin said, referring to the Grand Hotel's staff, whom he found surprisingly youthful. "For some reason, maybe because the hotel is 130 years old, I did not expect to see so many young staff members," he said, smiling.
Blin is new at the Kempinski chain, of which the Grand Hotel Europe is a part. He said he had serious plans for promoting both the hotel and the city in the West.
St. Petersburg has been the most talked-about travel destination in the West since over a year ago, Blin said. However, he added, the anniversary that gave St. Petersburg "a fantastic exposure" in 2003 is over, and the city authorities are doing nothing more to market the city abroad.
"Updated marketing of St. Petersburg as a destination is necessary all the time, because people in the West have so many other choices," Blin said. In that, he added, "hotels have a role to play."
There is a big shortage of city hotels in the summer, but many rooms remain empty in the winter, he said. Blin said he hoped that, as tourism in the city increased, the airport would gradually expand and taxi services improve.
Another major problem that severely hurts St. Petersburg as a travel destination is the hassle involved in obtaining a Russian visa, which is also very expensive. Blin said he recognized that difficulties exist for Russian nationals going abroad as well. Reaching a compromise regarding the visa issue is a pressing matter for the city, he said.
Yet despite the setbacks, Blin said St. Petersburg is an "absolutely European city," just as Peter the Great had conceived it. Blin said he saw nothing Asian about it.
Meanwhile, it was Asia that had made Blin open to other people and cultures.
Decades of working in hotel management in Asia did not just help him acquire fluent Pilipino and colloquial Thai, but also taught him to accept other peoples' different ways of behavior.
In Blin's view, the key to improvement lies in concentrating on things that work well.
"How much time do you want to spend analyzing the weaknesses of people? It will get you nowhere," he said.
News source: themoscowtimes.com


Print this news
---
City news archive for 21 October' 2004.
City news archive for October' 2004.
City news archive for 2004 year.