City news
A Trip Through Putin's Childhood
11.18.2004 13:02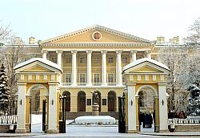 The Moscow Times
By Irina Titova
Staff Writer
St. Petersburg — "This is the house where President Vladimir Putin lived during his childhood," said St. Petersburg guide Kirill, pointing at an old, five-story yellow building at 12 Baskov Pereulok.
The building differs little from other houses in the historical center of Russia's cultural capital, where the president was born 52 years ago.
As a group of sightseers stared at the house's windows trying to guess which window once belonged to the Putin family, a street cleaner swept the building's tiny paved courtyard, where several expensive foreign-made cars were parked.
Kirill, who declined to give his last name, is a historian who conducts the tours for Falkon, an agency that started organizing tours of city sites connected to Putin two years ago at the request of curious tourists.
Demand for the tours peaks around the time of Putin's birthday — Oct. 7 — and sightseers largely consist of journalists and people from other parts of Russia, agency head Farman Mamedov said.
Demand for the two-hour tour is not high and the agency does not advertise it, Mamedov said. The tour costs several hundred rubles per person, depending on how many people are in the group and the size of the bus used.
"I want to emphasize that our excursion has nothing to do with politics, Putin's personality cult or anything like that," Mamedov said. "I personally respect Putin and think Russia has improved a lot thanks to him. But there is no personality cult or fanaticism about him. To my mind, Putin is a very modest person."
In the early 1950s, Putin and his parents lived in one room of a three-room communal apartment in what was then Leningrad. They shared a common kitchen and bathroom with their neighbors.
"They say Putin had a very hospitable mother and that his friends could freely come to their home, where she would feed them," Kirill said.
In those days many Leningraders focused on food after surviving the lean years of the Nazi blockade during World War II, and for many it was a priority and obsession to feed children well, he said.
The excursion started at the Snegiryov maternity home at 5 Ulitsa Mayakovskogo, where the future president was born in 1952.
The three-story gray and yellow building next to Nevsky Prospekt is still a maternity home.
"Putin was born into a completely ordinary St. Petersburg family," Kirill said. "And he was a genuine St. Petersburg native because he was the third generation of his family to live here."
Putin's grandfather Spiridon moved to St. Petersburg at the beginning of the 20th century from a village in the Tver region.
Spiridon Putin, who worked in the restaurant of the Astoria hotel, had six children, one of whom was the president's father, also named Vladimir. He was born in St. Petersburg in 1911.
The communal apartments in the house on Baskov Pereulok where the young Putin spent his first years are gone. Drawn by the site's convenient access to the city center, wealthy people have snapped up the rooms and turned them into luxurious private apartments.
The area has been home to other famous St. Petersburg natives, including Joseph Brodsky, the dissident writer and winner of the 1987 Nobel Prize for literature. The poet lived very close to Putin, and the two may have occasionally passed each other in the street, Kirill said.
A few minutes' drive from the apartment is the Preobrazhensky Cathedral, a classical yellow church surrounded by a fence topped with golden eagles — a symbol of tsarist Russia — where Putin was christened a few months after his birth.
Kirill said Putin's mother most probably took her infant son to the church without the knowledge of his father, who was a member of the Communist Party. Members faced problems if the authorities found out about a christening.
Next stop was a building on Ulitsa Nekrasova where the Putins used to go to the banya because their apartment had no bath. The banya no longer exists.
A few blocks away is School No. 193, where Putin completed grades one through eight. The students know Putin studied there, and they are proud of it.
"I like Putin," said Marianna Oganesyan, 16. "I like him because he is a modern man, has good manners and dresses well."
Kirill said there were few places where young people could go for entertainment when Putin was young. The tour takes in two of the most popular places of Putin's youth, the buildings that housed the long-gone Lug and Iskra cinemas.
Putin's involvement in sports, which continues to this day, started at 21 Ulitsa Dekabristov in 1967. He joined a children's sports society called Trud, or Labor, and learned self-defense and later judo.
Kirill pointed at a huge building at 4 Liteiny Prospekt that houses the local police and Federal Security Service, where Putin, while still at school, asked what he needed to do to become a secret agent.
There, in the KGB reception room, he was told that he would first have to acquire a degree, preferably in law.
The tour bus then went to 22 Linia on Vasilyevsky Island, where the law department of St. Petersburg State University is located.
The outside of the building is likely much the same as when Putin studied there, but it has changed significantly inside. A Western-style renovation has transformed the once decaying walls and ceilings into a well-lit, modern space. Special passes are required for entry.
Ivan Chizhov, 21, a fifth-year law student, said the fact that Putin studied there "adds prestige to the department."
"I see Putin as a well-educated man who knows what to do, who has a strong character, and who is very responsible about his job," Chizhov said.
Kirill said St. Petersburgers consider it very important that one of their own is president.
"Leningraders always had a feeling that Lenin, Stalin and Nikita Khrushchev did not like the city and therefore gave it a hard time or just ignored it," he said.
"Putin is the first native of the city to head the country in the almost 100 years since the last Russian tsar, Nicholas II, ruled it from St. Petersburg," Kirill said. "And he hasn't forgotten his home city.
"When he brings top foreign guests to this city, Putin advertises St. Petersburg to the world."
Sightseers are then taken to a five-story yellow building on 2 Linia where Putin lived with his family when he was deputy St. Petersburg mayor in the early 1990s.
Kirill said he did not know which apartment was the Putins' and invited the group to use their imaginations.
He also recommended the restaurants where Putin took guests such as former U.S. President George H.W. Bush and French President Jacques Chirac. Among them are Russkaya Rybalka, or Russian Fishing, and Podvorye in the suburb of Pavlovsk.
"Of course they are rather new places, because when Putin was young most of the population could only afford to go to a pelmennaya or a pivnaya," he said, referring to the simple cafes and bars of Soviet days.
The excursion ended near the seat of the St. Petersburg government at Smolny, where Putin worked for five years as the head of the foreign affairs committee.
News source: themoscowtimes.com


Print this news
---
City news archive for 18 November' 2004.
City news archive for November' 2004.
City news archive for 2004 year.