City news
Russian Figure Skating Championship
01.12.2005 14:27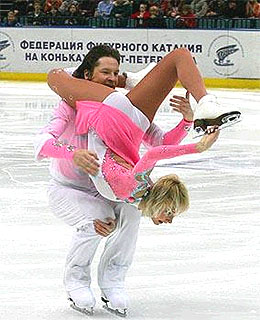 World champion Yevgeny Plushenko and Irina Slutskaya confirmed their domination in domestic figure skating, winning the men's and women's singles titles at the Russian championships.
Three-time world champion Plushenko, fresh from his win at the ISU Grand Prix final last month, grabbed his sixth national title, exciting the local crowd with a flawless presentation of his 'Godfather' free routine to earn four 6.0 marks for artistic impression.
Andrei Gryazev finished in the second place, while Andrei Lezin grabbed the bronze medal of the tournament.
Olympic silver medallist and 2002 world champion Slutskaya, who also won ISU Grand Prix final at Beijing, left his rivals no chances with almost perfect presentation of her free programme, adding fourth domestic gold to her trophy belt.
Last year's champion Yelena Sokolova failed to defend her title taking the second place, while 14-year-old Lilia Biktagirova finished third to complete the all-Moscow podium of the women's singles.
However, Saint Petersburg gained a revenge in the pairs section taking top three places with the 2004 world champion Tatiana Totmyanina and Maxim Marinin in the first place.
Their city rivals Maria Petrova and Alexei Tikhonov finished second, while another Saint Petersburg pair Yulia Obertas and Sergei Slavnov were third.
Oksana Domnina and Maxim Shabalin dominated the dancing section of the event in the absence of the Russia's top dancing duo Tatiana Navka and Roman Kostomarov, who decided to have some rest after their win in Beijing.
Moscow's pair Svetlana Kulikova and Vitaly Novikov took the silver medals of the event, while their city rivals Yana Khokhlova and Sergei Novitsly won the bronze medals.
News source: www.turkishpress.com


Print this news
---
City news archive for 12 January' 2005.
City news archive for January' 2005.
City news archive for 2005 year.