City news
Level Misfit Buildings
03.19.2005 18:15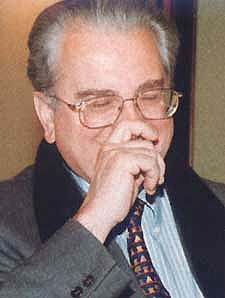 As City Hall plans to introduce new restrictions on what can be built in the city center, Mikhail Piotrovsky, the director of the State Hermitage Museum has produced a list of some of St. Petersburg's newest buildings that he says should be demolished.
"They damage the architectural-historic appearance of the city," Piotrovsky said Tuesday at a briefing on construction plans organized by information agency Rosbalt with the participation of City Hall officials.
Piotrovsky's list is almost identical to one made by City Hall's committee for the state inspection and protection of historic monuments, or KGIOP. It includes buildings located at 4 Pochtamtskaya Ulitsa, 60 Shpalernaya Ulitsa, a new retail center on Kazanskaya Ulitsa near the Kazan Cathedral, the elite residential complex Silver Mirrors and a new apartment block next to the Rostral Columns.
Participants in the briefing presented draft guidelines that City Hall could offer to construction companies.
Piotrovsky said that under the guidelines any project in the city center should be the subject of a broad public discussion and permission to build should be granted only in exceptional circumstances.
"A strategy to save the cultural heritage should dampen the ambitions and aggressiveness of developers," he said.
Alexander Margolis, head of the International Charity Foundation to Protect St. Petersburg-Leningrad, said City Hall should inspect the draft guidelines carefully to allow developers to operate in the central part of St. Petersburg, which is basically falling apart.
"Ninety percent of buildings in the city center need to be renovated, including 1,500 that demand urgent measures," Margolis said at the briefing. "Every city has the developers it deserves to have."
But KGIOP head Vera Dementyeva said City Hall has little control over developers because the federal government, which does not take the opinion of the city administration into account, is approving major projects in the historic part of the city.
As an example, Dementyeva pointed at the plans to build a new stage for the Mariinsky Theater that will introduce a modern look to the central part of St. Petersburg. The city government does not have enough power to limit even local developers, she added.
"It is wrong to introduce new elements into the existing architectural environment. We can only read through the list of what we have lost and be sorry about it. We can't introduce any measures [to stop it]," Dementyeva said.
Representatives of LenSpetsSmu, one of the developers named as having built buildings that Piotrovsky said should be demolished, dismissed the Hermitage director's list as gibberish.
"These projects were all approved at all levels of the administration," Sergei Gnibeda, deputy director of LenSpetsSmu, said Wednesday in a telephone interview. "It is not possible to demolish a building just because somebody doesn't like it. I don't like traffic jams, for instance. Does that mean that it would make made sense to demolish the Kirov Plant and build nice roads on Stachek Prospekt instead?"
"The complex that we are building next to the Rostral Columns is nice and doesn't damage the city in any way. There will be an additional hotel built for the city and 400 additional parking spaces, which are direly necessary," he said.
"With all my respect for such a well-known and respectable person, his words on this matter sound like gibberish," Gnibeda added. "I would ask who approved the elite residential building behind the circus, which I think is terrible. For some reason, Piotrovsky doesn't have anything to say about this project."
Meanwhile, Piotrovsky said that construction in the central city puts more strain on an overburdened infrastructure.
"The appearance of a new residential building in the city center raises questions about the social infrastructure and communal utility systems," Piotrovsky said.
St. Petersburg should learn from the experience of Europe, where it is impossible to start any projects without getting the permission of the residents of a neighborhood.
This had to be done when a branch of the Hermitage was opened in Amsterdam. In that case, residents gave their approval to the project, Piotrovsky said.
"Look at the way museums run their construction projects," he added. "These are examples of clever and careful construction in the center of St. Petersburg."
One of the most recent examples of construction companies raising the ire of residents in central neighborhoods is a project initiated by construction company Maximus to build a hotel in a courtyard at 15 Millionnaya Ulitsa. The developer plans to incorporate Nos. 13 and 15 into the project. A teenagers' club operates from both those addresses.
"Our club on Millionnaya Ulitsa has been going for more than 30 years," residents of the neighborhood wrote in an open letter sent to City Hall, the district administration and the Legislative Assembly.
"In this time a professional team of teachers has been formed. Several generations have been coming here with their children, who find activities they can get involved in. There are about 14 different studios and sections operating in the club. More than 250 children attend the club.
"We are protesting against the practice of selling sites of social and cultural significance that are located in our area and demand that legislation be drafted that will protect them," the residents wrote.
News source: www.times.spb.ru


Print this news
---
City news archive for 19 March' 2005.
City news archive for March' 2005.
City news archive for 2005 year.