City news
Donor's Open Heart Beats Bureaucracy
07.20.2005 16:36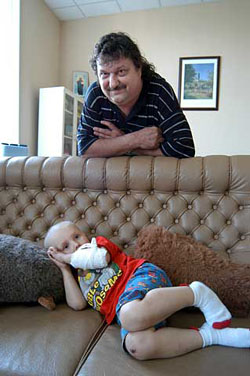 A philanthropist, who has made supporting the city's Petrov Oncology Institute a labor of love, says his concern is not just with helping the children, but also overcoming bureaucratic barriers.
Josef Hackl, 57, an Austrian cook who lives in France, has been supporting the institute, which treats patients with cancer, for 13 years, but his charity has received little help from bureaucrats.
"I'm happy with what I'm doing but looking into the future I can see two main problems," Hackl said Friday in an interview at the institute. "The first is the customs problem, because everything has to be stored at the customs for 3 or 4 months and the provisions simply spoil.
"The second is that nobody pays my transport expenses. I could bring two containers of aid a year, but my car can carry only 2 cubic meters, it's a 6,000 kilometer journey and each trip costs $2,000. But when I cross the border my heart literally opens," he said.
Hackl's support started in 1992 when head physician Vladimir Preis showed him around.
" The clinic was going through hard times," Preis said. "There wasn't even enough food. The first thing Josef did was to suggest that he would cook for us. He bought all the provisions himself and left only one junior-cook to help him in the kitchen."
Hackl first came to St. Petersburg in 1991 to receive his musical education at the St. Petersburg Conservatory.
In Austria, he had worked as a cook for pharmaceutical companies. Eager to aid the institute he negotiated with their managers for them to supply the institute with surplus antibiotics for free. He quit the conservatory and started taking the medicines across to St. Petersburg.
For three years he came to St. Petersburg four times a year, bringing almost half a year's medicine supply for the clinic each time. Nowadays he comes twice a year.
Hackl went on to provide medicines for another children's center, but at some point they started selling them.
"The corruption in Russia is disastrous," said Hackl, who stopped providing the center with medicines but kept aiding the institute.
By then customs tariffs had changed and importing medicines became difficult. Twice Hackl was told that Customs would need to inspect his medicines for three months. Eventually, he had to stop bringing the medicines.
From now on Josef concentrated on working with the children's section of the institute, which cares for 25 children at a time. He brought new furniture and equipment in the dining room for them, provided cash and paid for the Hermitage Theater to perform for the children three to four times a year.
He has continued to provide the children with clothes, toys, long-term provisions such as dry mashed potatoes, sauces, chocolate and chewing gum.
"Children were fascinated with the chewing gum but when they gummed every wall in the clinic, we asked Josef to stop bringing it," Preis said.
News source: .sptimes.ru


Print this news
---
City news archive for 20 July' 2005.
City news archive for July' 2005.
City news archive for 2005 year.