City news
Festival To Celebrate Potatoes
07.22.2005 15:56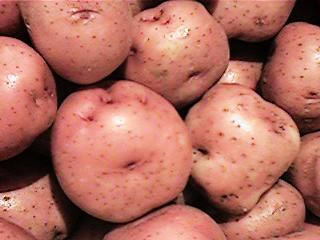 A vitamin-packed vegetable from the New World that has become a Russian national icon will get its own festival for the first time this weekend.
The Old World's first contact with potatoes came in 1537 when the Conquistadors found them in Peru. They did not arrive in Europe until about 1570, but people were not at first attracted to them and it was not until 1780 that they gained widespread popularity.
In Russia, various rulers, including Peter the Great, who saw them in the Netherlands, weighed the potential of the bulbous tuber in Russia, but the real breakthrough came 240 years ago.
In 1765, Catherine the Great signed a decree ordering that all possible measures be taken to distribute "these healthy and nourishing vegetables" in Russia. That year, 57 kegs of German potatoes arrived in Moscow, from where they were distributed throughout the country.
In addition, hundreds of sacks of potatoes were sent to the provinces, together with instructions on how the governors should distribute them.
Even then it was touch and go.
"The people were absolutely against having this strange product on their table," said a statement from PR agency STOP, which is promoting the festival. "They called the potato 'the devil's fruit.' In order to interest landowners in their cultivation a real marketing campaign was launched.
"Articles dedicated to the potato appeared in fashionable journals referring to it as a 'marvelous flower,' 'a cure for all ills' and 'a poison to counter all insects,' which could be used to make bread, porridge, dumplings, starch and powder.
The government promulgated the role of the potato in Russian life and between 1755 and 1766, the Senate considered the subject 23 times.
In 1765, the Senate ordered the Medical Collegium to publish special "Instructions on how to grow and use 'earth apples,' which in Britain are known as 'potatoes,' and in other places as 'earth pears,' 'tortufeli' and 'kartofeli,' and how to store them in winter."
Ten thousand of the instructions were published and distributed, with 50 going to a province and 25 to a city. Funds were also allocated to buy and distribute potatoes.
The authors assured landowners "that these apples, which require extremely little care, not only are healthy and pleasant food for people, but can also be used to feed all kinds of domesticated animals."
In St. Petersburg, an economic society was formed in 1765 that published scientific articles about the potato, its nutritious value and cooking qualities. One article by the scientist Ivan Komov said "no vegetable is more useful than the 'earth apple,'" and that "these earth apples can substitute for bread."
It was not long before peasants discovered that one could make vodka from potatoes, a practice that continues to this day.
But it is on Russians' kitchen tables that potatoes enjoy their greatest popularity. In times of famine, nutritious potatoes have kept many people alive.
In the early 1990s when the economy all but collapsed and people plunged into poverty, there was a boom in potato growing with people hurrying to their dachas to plant most of their land with potatoes. The harvest was enough to fed them all through the winter.
But at the height of summer and at other times depending on the variety, comes a highlight for many potato lovers - new potatoes. Homegrown or sought at markets, they offer the finest pleasure to tuber lovers.
Larisa Moisechuk, head of the dietology department at St. Petersburg's Mechnikov hospital, said potatoes are very healthy because of the many vitamins and mineral traces that they contain.
Potatoes are especially useful for people with heart and circulation problems because they contain potassium, and they also help people with kidney illnesses. Potatoes are also very rich in vitamin C, Moisechuk said.
"However, to save the vitamins, put potatoes directly into boiling water for 20 minutes. People should not put them in cold water first," Moisechuk said. "Then the potatos will keep its mineral traces."
A daily norm of potatoes for a healthy person is 200 grams. The best way to cook potatoes and retain their beneficial effects on health is baking," she added.
The high consumption of potatoes in Russia is due to their high calorie content and nourishing qualities, Moisechuk said. Traditionally northern nations need higher-calorie foods and potatoes grow well in Russian territories because they require little tending.
On Saturday, 10 Russian cities will celebrate New Potatoes Day. In St. Petersburg the day will start at the entertainment complex of Divo-Ostrov at Krestovsky Island at noon.
The founder of the holiday is potato chip maker Lay's. The organizers plan to use the celebration to establish a new annual national tradition, similar to those of Beaujolais Nouveau in France, the Oktoberfest in Germany, or the tomato festival in Spain.
The program of the festival includes theater performances about the history of the potato, contests for adults and children, cooking competitions with audience participation and shows by popular actors.
The first performance will feature Peter the Great and Catherine the Great and will tell about the history of potatoes in Russia.
Between the performances there will be a contest of children's drawings under the slogan of "Every Potato Has Sun In It."
At the same time a cooking contest will present the city's best cooks, who will have the task of cooking the most unusual and delicious potato dish. The public will have an opportunity to try all the dishes and judge them.
News source: sptimes.ru


Print this news
---
City news archive for 22 July' 2005.
City news archive for July' 2005.
City news archive for 2005 year.