Printed from: http://petersburgcity.com/news/city/2005/08/04/halonen/
City news, 04.08.2005 12:48
Putin invites Halonen to Petersburg in September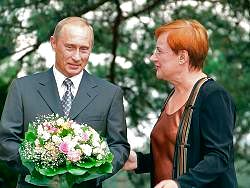 Russian President Vladimir Putin has invited his Finnish counterpart Tarja Halonen to visit St. Petersburg in September for talks and the unveiling of a sewage processing plant, partially financed by Finland.
"We shall have an opportunity to continue discussions on the development of Russian-Finnish relations," President Putin said.
Putin specified that the project to build the sewage processing plant is carried out within the framework of the Northern Dimension program and Finland takes part in its financing.
News source: www.itar-tass.com