City news
Street named after St Petersburg built in Kazan
08.25.2005 12:15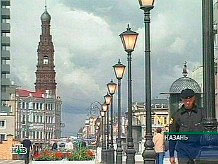 A new street named after St. Petersburg was inaugurated in Kazan, the capital of Tatarstan, on Wednesday in the run-up to its millennium.
Speaking at the inaugural ceremony, St. Petersburg Governor Valentina Matviyenko addressed almost 10,000 local residents in their native language, getting "Hurrah!" in reply.
The governor wished all residents of Tatarstan good health and success, and expressed the hope that their capital will prosper for centuries to come.
"Today, when Kazan is celebrating its millennium, an event of truly national magnitude, we are giving a whole street to this ancient city as a present," Matviyenko said.
She said, "The best builders and architects from St. Petersburg worked to create a part of the Vasilyevsky Island and the Neva embankment in the center of Kazan."
Tatar President Mintimer Shaimiyev thanked St. Petersburgers and assured them that "pedestrian street Peterburgskaya will become the most favourable place for people in Kazan".
St. Petersburg builders and architects, who invested 150 million roubles in the project, created a pedestrian street with fountains, lanterns, vases, and bridges. They also installed a memorial sign – a replica of the galley Tver, in which Catherine the Great arrived in Kazan in 1767, with two anchors and elements of St. Petersburg's coat of arms at the base.
Matviyenko also gave Kazan a snow leopard, the animal that is depicted in the republic's coat of arms. "We are giving you a living embodiment of the adroitness and strength of the Tatar people – a snow leopard, who was born and raised in the Leningrad Zoo – as a token of love and friendship between our people," she said.
Shaimiyev, recalling history, said there used to be mice-catching cats in Kazan in the 17th and the 18th centuries. In 1745, Empress Elizabeth ordered that "30 of the best and the biggest cats be found in Kazan and sent to Petersburg" for the Hermitage that was crawling with mice which damaged its exhibits.
"We are proud that our cats helped to save the treasuries of the Hermitage and we thank St. Petersburgers for having preserved and raised our cats, and for returning them as leopards," Shaimiyev said.
News source: www.itar-tass.com


Print this news
---
City news archive for 25 August' 2005.
City news archive for August' 2005.
City news archive for 2005 year.