City news
Kiwi exchange wins Ruski's heart
09.21.2005 12:41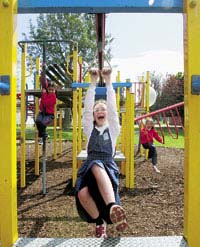 KATYA Hughes is from school number 307 in St Petersburg, Russia. The school has no name, and there are no beaches or mountains nearby and she lives in a one-room apartment with her mum and dad.
But for one school term, the 11-year-old has been at Howick's Owairoa Primary. She is the only primary aged Russian international student in the country, and although due to leave soon, she would love to stay.
"Here, it's just lots of fun, playing games and it's very interesting and I like it," she said.
"In Russia we sit all the time at our desks. At lunch and morning tea time we spend all our time inside.
"Here we can run all around the school."
She's been living with Savill family, and her home-stay mum Sheryl describes the experience as fantastic.
"The whole process of [her] coming into the family has been really good,: Mrs Savill said.
She recounts the early stages of Katya's stay, when she forgot she wasn't in Russia.
"She would turn around and ask us something straight out in Russian.
She'd wait for us to answer, and when we didn't she'd ask it again, in Russian!
"Then we all just started laughing."
The alert 11-year-old has noticed many differences between the two countries during her stay.
"It's much different in St Petersburg, because we learn for only three years [before intermediate].
"Here it's more interesting," she smiles.
Katya noted "everyone in St Petersburg smokes", and she has enjoyed New Zealand's cleaner environment and has enjoyed having more space, at school and home.
"When she found she had her own room she couldn't believe it," Mrs Savill said.
She said she enjoys walking, particularly on the beaches and at night to see the stars.
"She's always wanting to be outside," Mrs Savill said.
That has included hours of playing on the family trampoline, something Katya had never been on before.
Asked what the Russian will miss the most when she leaves, she thinks before replying with a smile: "Everything."
Katya came to the country after a delegation of educationalists went to Europe in 2001 and again in 2004, looking to expand New Zealand's international education market.
They ran a competition in conjunction with Russian school principals, with winning students given the chance to come to New Zealand to study.
Owairoa Primary is looking to attract more students from Europe, as they claim new government regulations have caused the flow of Asian international students to slow down.
News source: times.co.nz


Print this news
---
City news archive for 21 September' 2005.
City news archive for September' 2005.
City news archive for 2005 year.