City news
Going east
11.18.2005 13:24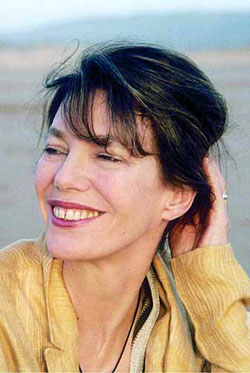 The songs of Serge Gainsbourg have been reinterpreted with an Arab flavor and will be performed by his muse Jane Birkin in St. Petersburg.
Jane Birkin, the France-based English singer and actress, comes to St. Petersburg to perform "Arabesque," the set that she has been touring with all over the world for the past three years, for the first — and ultimately the last — time.
"Arabesque," an "orientalized" collection of songs by the late French singing legend Serge Gainsbourg, her former husband, started at the Avignon festival in 1999, when, on the advice of her and Gainsbourg's artistic director Philippe Lerichomme, she collaborated with Algerian violinist Djamel Benyelles — to phenomenal success.
According to Birkin, she wants to end the tour and cease its run in St. Petersburg because it was the city where Gainsbourg's Russia-born parents were married in 1915.
Born the daughter of navy commander David Birkin and actress/singer Judy Campbell on Dec. 14, 1946, in London, the mini-skirted Birkin was at the center of Swinging London in the 1960s.
Birkin made her (uncredited) movie debut in Richard Lester's "The Knack" in 1965, but became instantly — and controversially — famous after the nude scene in Michelangelo Antonioni's "Blowup" in 1966. Her first husband was the James Bond composer John Barry.
Later she would add to the controversy with the song "Je t'aime... mon non plus," her orgasmic collaboration with Gainsbourg that was banned by radio stations and even condemned by the Catholic church, all of which only added to its popularity.
Having moved to France in the late 1960s, Birkin has become one of the most popular English artists on the French scene, making dozens of films and performing songs that Gainsbourg wrote for her, even after they divorced in 1980. In 1995 Birkin played Andromache in Euripides' "The Trojan Women" at France's National Theater.
Birkin, who supports the Chechen children dance troupe Daimohk, is also an outspoken critic of the war in Chechnya.
She spoke volubly to St. Petersburg Times by phone from Paris earlier this month, speaking with a clear English accent but using some French words, about her work, Gainsbourg, and her political activism.
Please talk about your concert in St. Petersburg. What songs are you going to perform?
Most of the songs were written for me after I left Serge [Gainsbourg]. A great many of them are very well-known in France, like "Baby Alone In Babylone," "Run Away From Happiness" ("Fuir le bonheur"), and "Les dessous chics". Songs from the time I was with Serge include "Histoire de Melody Nelson" and his very well-known "La Javanaise." And it's all to the accompaniment of Djam & Fam, which is a group that I have known about since 1999.
I was doing a show in Avignon, and my director artistique [Philippe Lerichomme] said: "Gosh, you've been singing Serge's songs for so long. You must think of something different for the Festival d'Avignon." So I said: "You know, I never get any good ideas." He said: "Well, here's an idea." And it was certainly risky, because people were bound to say, Oh, why change Serge with a different rhythm, why? There are conservative people who would say: "Don't touch him."
On the other hand, Serge changed himself more often than most songwriters, which is the reason why he is the most popular songwriter in France — because he knew how never to repeat himself, never look back. He wanted to do "La Javanaise" in reggae, as you know, and "You're Under Arrest" with the Americans. Serge was a great changer himself. Philippe Lerichomme said: "Why don't you try to do Serge's stuff, but with Djamel's orchestrations, Arab orchestrations?" When I heard "Elisa," which is one of Serge's oldest songs, with that Arab orchestration I realized there was something magical about it.
So we sang that year in Avignon, live on [the radio station] France Culture —I suppose it was only an hour. But it had such feedback and people were so excited, and it was so exciting to do, I thought it was a pity to stop. I was asked by the [French] National Theater to do whatever I wanted to for three days, and I thought, why not do this?
I've been doing "Arabesque" for the last three years non-stop in every country in the world. From Vietnam, to Canada, to South America. We've been to Israel, Palestine, the Gaza Strip, Ramallah. We've been throughout England, Scotland, Ireland. We've been across all Europe, of course.
"Arabesque" has taken me everywhere, probably thanks to the fact it's Arab music. It has an atmosphere, which means it really doesn't matter if you don't speak French. People have cried just the same, they feel the emotion just the same. In Hong Kong they only had the two pieces of paper where everything was translated. I must remember to do that for St. Petersburg and for Moscow because it's somehow more interesting.
Serge is difficult to translate, because [his lyrics] always have at least three meanings. If it's "Amour des feints," it means "love of the dead" and "love of feigning," so translating it would be very complicated. Even "Je t'aime... moi non plus," well, people thought it was "I love you… So do I," but it was "I love you… Nor do I." His stuff is always much more complicated than meets the ear or the eye.
Gainsbourg's parents were Russian Jews who emigrated to France. Where did they actually come from?
Well, three books about Serge have just come out, so I should really look it up. We did a concert in Kiev, and I tried to find Feodosia, and I did find Feodosia. I took Jackie, Serge's sister, and we went to where his mother [Olia Bessman] came from, which was Feodosia. The house doesn't exist any more. The man from the museum was perfectly charming and he was trying to find what would have been the map of the city in 1915.
I know Serge's mother came from Feodosia, and I think his father came from Baku. And I know they went to get married in St. Petersburg.
I've already been [to St. Petersburg] three times, but this time it will be very emotional to come back with Serge's songs, because that's where his parents got married on a ration of potatoes.
His mother worked as a nurse in the Tsar's army, so I know they had a wedding dinner. They were very poor, so I know it was potatoes that they cooked. They had no vodka, so they had alcohol, 95-percent alcohol from the infirmary. That was what their wedding was like in St. Petersburg. Then they went back to Feodosia, said goodbye to her family and then went to Istanbul.
They spent three years in Istanbul to save enough money to get to France. And then they first arrived in Marseilles and then went to Paris where his father was a pianist. Serge was born, and an older brother called Marcel who died, and Jacqueline and Lilianne.
He changed his name when he was about 20 because he wanted to go into singing and songwriting and he thought [his given name] Lucien was sort of a weak name. He wanted to become more Russian, so he called himself Serge. He changed Ginzburg to Gainsbourg because he loved the English painter Gainsborough. And he was fed up with everybody pronouncing it wrong.
And he was probably right to call himself Serge Gainsbourg because he made himself into a legend.
The St. Petersburg concert will be based on your 2003 "Arabesque" album, but your most recent album is "Rendez-vous" (2004). Will you perform anything from it?
From "Rendez-vous," no, but I do do two songs that are not Serge's. One of them is "The Keys to Paradise" ("Les clefs du paradis"), which was from a previous record where I was dressed up as a butterfly on the cover [the 1999 "A la legere"]. And the song that [French singer] Zazie wrote about Serge, which was called "C'est comme ca." Those two are not Serge's, but all the rest are.
And I'll sing it in Russia for the last time, because after three years I think it's time to stop.
But it was very difficult for to me not to come to Russia. Every time I said [to Gainsbourg] "Oh, you cry so much, you're so easily moved to tears," he'd say, "Ah what can I do? I can't help it, I have this Slav nature." And he did indeed have a Slav nature. I used to say, "How extraordinary! He's got no hair on his body." It gave him a very sophisticated side.
I used to buy him old Russian jewelry because he looked wonderful in Russian bracelets because he had such fine white arms, and he said: "That's because I'm a Tartar."
I was never sure what was true or untrue. He liked this idea that he was a Tartar and Russian. And he certainly was made of Russian stuff. I mean he drank too much indeed but he could put away quite a lot, which would kill most people, and it killed him in the end. But he certainly had this Russian poet mad streak.
When I was in St. Petersburg last time, I went to Dostoevsky's house. Serge's house is going to be turned into a museum in Paris, and I thought I'd take this idea from Dostoevsky's house, where they always fill up a little glass with tea and then they have this little packet of cigarettes where his daughter wrote "Papa's dead" in pencil.
I said to [my daughter with Gainsbourg] Charlotte that if Serge's house is going to be a museum, we should put his little cup of coffee and Gitanes cigarettes sort of burning in an ashtray. It was so delicate to see that in the Dostoevsky museum. I took my mother [Judy Campbell] there and I took [filmmaker and Birkin's husband] Jacques Doillon there, and all my children there. So I mean I've been there before.
If St. Petersburg is the place where his parents were married perhaps it's a good place to stop. And you have to learn how to stop. This will be the last of the "Arabesques."
But you didn't perform in Russia before? You were just visiting?
Yes. I came to visit Russia. Serge never visited Russia. We went to Yugoslavia, that was the closest, when we did Abraham Polonsky's film "Romance of a Horsethief" [1971]. I remember that his father was with us and his mother. And Serge said that it was very like Russia.
We came down at Moscow airport once, on our way back from Japan. He rushed to the food counter, where he was pushed back by a very fat lady who pushed him back because he thought he could speak Russian and she turned him away rather coarsely. He couldn't speak enough Russian for the food counter.
I used to say to his parents that I'd take them back. And they'd say everyone they knew would be dead. They never got back. But I took Jacqueline to Kiev, and I went to Moscow many times. I went with [film director] Agnes Varda.
Somehow I feel I'm finishing in the right way. If I haven't come and sung before, it was because nobody asked me. I only wanted to sing this time as long as I could also be with Memorial and the Committee of Soldiers' Mothers. This way they worked out the concerts, so that was my only way, because of my commitment to the Chechens.
You are a critic of the war in Chechnya. Please could you talk about this?
When the Chechen war came, and I saw the bravery of the mothers of the Russian soldiers who were fed up with watching their sons being shot to pieces in Chechnya I thought, They're right. I'd read the Tolstoy novel [Hadji Murat] and I knew there'd been trouble in Chechnya, and I thought what bad luck to have a pipeline going to the Caspian Sea. When you've got petrol then you're always in trouble. They'd been promised their liberty, they'd been promised to have an independent state.
To go back on that promise seemed to be such a terrible mistake. Afterward, as it turns out, this last year things have got worse and worse, because all the leaders that used to be reasonable and used to be able to talk because they wanted peace too were killed. So they've become more and more isolated. It's a great tragedy.
So I don't know, perhaps every tiny bit helps. I don't want Russian people to die, and when I saw a Chechen children's dance troupe in Paris, I thought, They're not going to turn into wild fanatics, you know, these children are dancers, they got their values, they got their culture.
I wanted to help them and let them be seen. I took them to the theater with [French theater director] Ariadne Mnouchkine in Paris and they were seen by all the theatrical people in Paris — Michel Piccoli and Patrice Chereau, and everyone saw the Chechen children dancing.
The best I can do is to try and help this small dance group be seen because it must be terrible to see your culture go. Your culture, your lifestyle… And to live in Grozny now, can you imagine? I just wish it would all stop. The Russians must be fed up with the war, the Chechens are certainly fed up with the war. And you know that in the end of history it will probably become a separate state anyway. I am not a politician but I do care.
But I do understand equally that it's probably very annoying for Russians that here's some stupid French person, English person speaking for the Chechen people, given that there's propaganda in every newspaper, in every television show, and for them it's just a whole lot of terrorists making their lives miserable. You never see both sides of it.
I only say this because I'm a great member of Amnesty International, if I'm trying to do what I can for Amnesty, then you cannot shut your eyes when you see those concentration camps, and filtration camps and torture.
If [the war] could stop, I would have thought it would be the Russian and the Chechen dream.
Jane Birkin performs at the Music Hall on Saturday. www.janebirkin.net
News source: sptimes.ru


Print this news
---
City news archive for 18 November' 2005.
City news archive for November' 2005.
City news archive for 2005 year.