City news
Environmentalists Picket Major Fur Auction
12.09.2005 16:41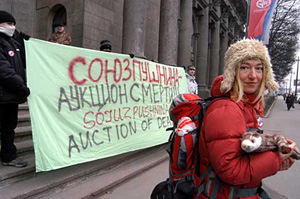 Environmentalists have called for Russia to ban fur sales and the use of animal traps at a protest outside the only surviving annual fur event in the country.
Members of the Alliance for the Protection of Animal Rights gathered outside the 167th Soyuzpushnina fur auction at 98 Moskovskaya Ulitsa on Wednesday.
They held a banner, which branded the event a "death auction." Semyon Simonov, one of the group's leaders, said that they aimed not only to stop the auction, but also to shut down the entire fur industry.
Protester Irina Agamirova, who came from Moscow to take part, handed out flyers which read: "My Life or Your Coat". She said:
"I see expressions change on people's faces when they read it. I can see that they start thinking about the real price of their coats, and I know that my efforts are not in vain. If only people knew more about the cruelties of the fur industry, I am sure many would reconsider buying fur items."
According to the statistics collected by the Alliance for the Protection of Animals' Rights, four million animals are killed annually in Russia by foot traps which are banned in 88 countries, including Finland, Austria, Belguim, Cuba, France, Greece, Italy and Great Britain.
"Animals bleed to death in these traps," Agamirova said.
"Several days may pass until the poor animal finally dies, and hunters won't even shoot them because they don't want to spoil the fur. Fur farms are no less merciless to their animals: they kill them by running lethally high-voltage electricity through their orifices or even give them a gas attack, something only the fascist gestapo would do."
Russia's largest fur auction, Soyuzpushnina has been a nationwide monopoly since 1931. The auction ranks within the world's top eight major fur auctions, including events in Copenhagen, Helsinki and Seattle. This year, a total of 487,000 pelts of mink, sable, fox, squirrel, polecat and blue fox are going on sale at the auction. Mink pelts traditionally dominate the sales. This year, about 250,000 pelts are set to go under the hammer.
Natalya Chirkova, head of PR for Soyuzpushnina, said that sales are highly unlikely to be affected by the meeting, but admitted that the presence of protesters creates a certain emotional tension among staff.
"Of course, it is better for these young people to stay outside our office holding banners than indulge in drinking or drugs, but they have to realize this is just not serious," Chirkova said. "The fur industry is an established international business."
Soyuzpushnina's business is doing well. Last year, the auction took $6 million, an increase from $4.25 million in 2003.
In the Soviet era, Russia boasted about 100 fur farms, all of which were run by the state. But the industry has declined during the post-communist era as government subsidies have dried up. The number of fur farms has halved since the start of Perestroika.
The meeting on Wednesday was the first event in a series of five days of protests, which will culminate with an event on Vladimirskaya Square on Sunday afternoon.
Simyonov said he hopes Russian celebrities will join the campaign, just as Paul McCartney, Brigitte Bardot or Pamela Anderson have done in their countries, in order to garner the issue more recognition.
News source: times.spb.ru


Print this news
---
City news archive for 09 December' 2005.
City news archive for December' 2005.
City news archive for 2005 year.