City news
Russia wants to share great city
12.28.2005 15:28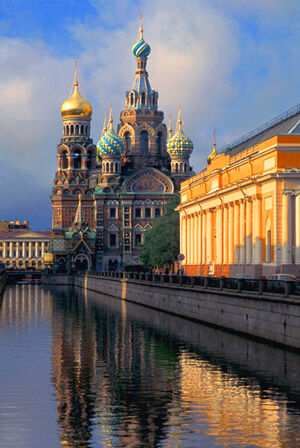 You can watch the sun set here at midnight, standing with scores of people at the Neva River's edge, looking across at the kaleidoscopic changing of the hues over the Sts. Peter and Paul Fortress.
The sun safely down, St. Petersburg resumes its wondrous prowl - a boomtown of clubs and music and restaurants running deep into the late-arriving night or early-arriving morning. There are times during the summer when it never quite gets dark - the "White Nights."
Having the sun go down so late in the seasons when you are actually likely to visit St. Petersburg is a good thing. A visitor might never see the sun at all otherwise, so much is there to do during the day. And night. You could spend a whole trip inside churches, museums and the amazing subways, fascinated by 300 years of history, culture, religion, government and social change - and almost never get outside.
That'd be sad, as "outside" in St. Petersburg is as beautiful as any of the treasures seen within; lively street scenes, glorious parks, elegant architecture, haunting cemeteries, evocative palaces and startling mansions, lovely countryside, canals and waterways.
St. Petersburg has again burst into its own as Russia's beautiful and exciting center of history and culture, of cuisine, fashion, fun. This was something of the goal in building the city three centuries ago. Peter the Great ordered up this amazing place from scratch precisely to create a new and vibrant center of culture, spirit and authority. The Soviets renamed it Leningrad and even under their rule, the place had an energy not always to be found in the government-dominated Moscow to the south. The Germans did their awful best to destroy the place in a monstrous, bloody siege.
Nevsky Street, the city's zippy commercial spine, is a mishmash of young women in miniskirts and old women in babushkas. The shops burst with so much Western fashion that you can wonder where you'd ever buy a great overcoat if you wanted one.
St. Petersburg beckons with such amazing and wonderful beauty as to leave the stranger gasping for time to take it all in. Thank goodness for the long days.
Take in all the Hermitage? You could have 10 lifetimes and not absorb the treasure accumulated in Catherine the Great's enormous little art box.
It is not even vaguely possible to dent the store of art in this beautiful complex, spindled on the Alexander Column on Palace Square. Museums can overwhelm and suffocate a vacation, but the Hermitage itself is as much a treasure as the painting and statuary within.
The world's postcards may feature St. Basil's in Moscow as a signature cathedral, but you could wonder how the St. Petersburg's Church on Spilled Blood, or, the Church of the Resurrection of Christ, was slighted. With its mosaics, semi-precious stones, Italian marble floors, stained-glass windows, the church was used as a warehouse for much of the Soviet era, only reopened as a religious center in 1997.
Across town, the colossal St. Isaac's Cathedral is magnificent in size and scope. St. Isaac's is one of the planet's largest cathedrals. It embraces mosaics, paintings, sculpted doors, aeries far above the streets sprinkled with bronze and masonry art.
The best way to get across town is by subway - and what a subway it is. They're spectacular. Chandeliers. Paintings. Mosaics. Statues. Art works. The high design of style and politics and spirit.
High above, the city is marked by wide avenues and canals. The wonderful presence of so much water also calls for bridges. They are all dramatic and art themselves Most, stitching downtown's principal regions together across of the Neva and two of its tributaries.
No visit to St. Petersburg is whole without paying respect to its cemeteries, legendary for their sculpture, history and emotion captured in marble and metal.
With the tragic nature of the Russian experience, the excellence dedicated to the dead is humbling and uplifting.
News source: charleston.net


Print this news
---
City news archive for 28 December' 2005.
City news archive for December' 2005.
City news archive for 2005 year.