City news
When City Ballet Revisited Its Roots
01.13.2006 15:06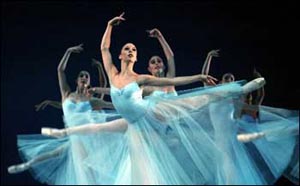 "Bringing Balanchine Back," a documentary about New York City Ballet's 2003 season at the Mariinsky Theater in St. Petersburg, easily passes the cringe test I apply whenever ballet is sold to or explained for a mass-medium audience. Most such films are vehicles for schlocky personal narratives, shopworn cliches about dancers' lives, and simplistic, factually challenged aesthetic or historical summations. But "Bringing Balanchine Back" treats its subject matter, as well as its audience, with considerable dignity.
In July 2003, NYCB traveled to St. Petersburg for the White Nights Festival - a festival enhanced that year to commemorate the 300th anniversary of the city's founding.The film includes expertly recorded excerpts from NYCB's performances, in which the company danced an adroitly assembled program of Balanchine, Jerome Robbins, and Peter Martins ballets. The dancers obviously were thrilled to be performing in the theater in which Balanchine grew up.
St. Petersburg itself, at its most beautiful during the summer's endless night, shares equal billing with NYCB: We see the dancers exploring the city and visiting the microscopically detailed private theater of the Yusupov mansion on the Moika canal a couple of blocks from the Mariinsky. (It was in this palace that Rasputin was murdered in 1916.)
This is an authorized production, so there is a little bit of boosterism around the margins. Since-retired principal dancer Jock Soto informs viewers that Mr. Martins, artistic director ("ballet master in chief" in NYCB parlance) following Balanchine's death in 1983,"has kept the tradition and the Balanchine technique and made everything better." NYCB ballerina Darci Kistler, who is married to Mr. Martins, predicts before the company leaves for St. Petersburg that it will be "dancing these ballets probably as well or better than they were danced when Mr. B. was alive." However one responds to these remarks, it is apparent from the footage included that the company danced very well in St. Petersburg.
In general, though, the film refrains from spouting agendas, as well as from an overly polemical approach to the company's importance. Ms. Whelan and NYCB principal dancer Alexandra Ansanelli, as well as narrator Kevin Kline, supply some background on how Balanchine departed from the repertory in which he was raised at the Mariinsky, but they skip the oft-heard claim that Balanchine had thus rendered anachronistic or obsolete that same repertory, the highlights of which remain the mainstay of companies around the that world.
NYCB had not performed at the Mariinsky since Balanchine himself led the company in 1972, although Ms. Whelan, Mr. Soto, and Maria Kowroski had danced as guests with the Mariinsky's Kirov Ballet earlier in 2003.Before leaving for the tour, NYCB Ballet Mistress Rosemary Dunleavy confesses that she doesn't "know what to expect from Russia now." Not explained is that during NYCB's first Russian tour in 1962, Balanchine received mysterious late-night phone calls and hang-ups, leading the company to suspect phone tapping and other surveillance. So traumatized was Balanchine, who had not visited Russian since emigrating in 1924, that he returned briefly to the United States.before rejoining the tour.
This time, the obstacles faced had more to do with the exotic customs of the Mariinsky, which operates in completely different fashion than its counterparts in the United States or even in Europe. On NYCB's opening night, the Mariinsky's artistic director, Valery Gergiev, disappeared mysteriously with the orchestra before the performance of Balanchine's "Symphony in Three Movements," prolonging the intermission interminably. We learn in the film that he had taken them to the upstairs stage for additional rehearsing of the Stravinsky score he was about to conduct.
This is not an unusual occurrence at the Mariinsky, but it evidently took NYCB unawares. At a post-perform ance fete, Maestro Gergiev pledges his interest in conducting for NYCB in its Lincoln Center home, "and if Peter doesn't want me to come, he will tell me." Mr. Martins replies, "The only thing I will say is that our intermissions are only 20 minutes."
Ms. Ansanelli is one of most prominently featured performers in "Bringing Balanchine Back." We watch her rehearse onstage on the morning of what is to be her company debut in Balanchine's "Serenade," framed by the ancient exposed bricks of the bare back wall of the theater as well as by the gilt of the open auditorium. But Ms. Ansanelli did not make her debut that night; she was taken out of the performance. We're not told why, but the rehearsal footage shows her unfamiliarity with some moments in the partnering. Perhaps Mr. Martins was overly anxious about allowing a major role debut to occur in so important an engagement.
Ms. Ansanelli finally did make her St. Petersburg debut on the season's closing night, dancing in Balanchine's "Western Symphony." In the theater wings following the performance, she reports to the off-camera interlocutor that it was gratifying, "considering everything." Ms. Ansanelli left NYCB last year, saying that she wanted to dance those very same full-length ballets that received their world premieres at the Mariinsky during its imperial past.
News source: nysun.com


Print this news
---
City news archive for 13 January' 2006.
City news archive for January' 2006.
City news archive for 2006 year.