City news
Going underground
01.27.2006 15:18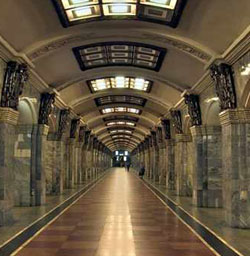 The St. Petersburg Metro is celebrated with a fascinating new exhibition.
Russia boasts arguably the world's most opulent and sumptuous underground train systems, with columns carved in marble, quirky Soviet monuments, jaw-dropping mosaics and sophisticated chandeliers. The Moscow metro is one of the country's major tourist attractions, but St. Petersburg's system is no less of a marvel.
By Galina Stolyarova
An exhibition, "St. Petersburg's Metro: From an Idea to Fulfillment" in Nevskaya Kurtina of the Peter and Paul Fortress, puts St. Petersburg's metro, which began operating in 1955, into the context of the international history of underground transit systems, as well as celebrating its achievements and divulging a few secrets.
One of this exhibition's strong points is that it gives visitors an opportunity to look behind the scenes of the metro. It is fun to hear the show's curators reveal the stories of ambitions projects never fulfilled: bold designs that were accused of "Formalism" and rejected, and over-decorative designs that were despised for vulgarity only to be left on the drawing board.
But, in addition to carrying passengers around the city, the Soviet metro was a political instrument. It was a billboard for the totalitarian regime and soothed harassed commuters with patriotic ornament and decoration. Even its Soviet-era name was famously full of mythologizing bombast: The Leningrad Metro in the name of Lenin with the Order of Lenin (the name can still be seen emblazoned on a well at the intersection of Ploshchad Vosstaniya and Mayakovskaya stations).
Narvskaya station, inaugurated in 1951, was initially to be called Stalinskaya and the station was originally decorated with a giant mosaic panel showing Joseph Stalin stretching his hand towards the masses in a welcoming gesture. The Stalinskaya project was put forward in 1949/1950 to coincide with the Soviet tyrant's 70th birthday.
The mosaic was removed the day following the so-called "Secret Speech" made by Stalin's successor Nikita Khrushchev at the 20th Communist Party Congress in 1956, when Khrushchev denounced Stalin's personality cult.
But the metro authorities couldn't bring themselves to destroy the mosaic which was a compelling example of propaganda art. A large color photograph of the panel is displayed at the exhibition.
Remarkably, the pieces of which the mosaic was comprised were kept in large sacks in a warehouse and have survived to this day. There has even been talk of reassembling the mosaic for display but no curator has yet been brave enough. At first glance, the exhibition may look like a rather uninspiring bunch of maps, plans, newspaper cuttings, photographs and color drawings. But its main asset is its precious content, which deserves a closer look.
"The Soviets were deservedly proud of the metro, and they held nationwide design competitions for every new station that was built," said curator Vladimir Avdeyev. "St. Petersburg architects wanted the local metro to be different from the one in Moscow and give it a special style, reflecting the city's austerity and grace. The desire to differ from Moscow was painstaking."
In Moscow, the most ornate and richly decorate stations are Mayakovskaya and Ploshchad Revolutsii, and stations on the circle line. To see the most imposing stations in St. Petersburg, travel from Ploshchad Vosstaniya to Avtovo.
Each station had a special theme. For example, Vladimirskaya is meant to trumpet the successes of Soviet youth. But a winning design by Alexander Zhuk, with bas-reliefs and panels depicting dancing proletarian youth amid waving red flags didn't survive political fluctuations.
"The Moscow architect presented this amusing design showing what could be best described as 'boyars entertainment'," Avdeyev said, pulling a face at the Vladimirskaya design on display. "These young people are even dressed in some sort of a pre-Revolutionary fashion."
The only local metro station designed by a Muscovite was Pushkinskaya, although its architect, Leonid Polyakov, was a graduate of St. Petersburg's Academy of Fine Arts.
Pushkinskaya is a favorite of St. Petersburg metro employees, Avdeyev said. This is the only station in the entire metro network with no advertisements on its walls. The reverence, however, may also be partly provoked by love of Pushkin, Russia's most worshipped poet.
Structured in chronological order, the exhibition starts with rare prints and designs of the first underground stations in London and Paris, where metro systems were pioneered. Amazing cross-section diagrams of London's Piccadilly station and the Opera station in Paris as well as pictures of the interiors of the first stations in Hamburg, designed by Villeroy & Boch, the famous manufacturers of household appliances, are also on display.
"The London metro was launched in 1863, the same year, when a konka, a horse-drawn tram, started operating in St. Petersburg," said curator Galina Nikitenko.
The first mass transit plans for St. Petersburg date back to the end of the 19th century. The exhibition shows designs for some of the most ambitious of them, including a 1889 designs by architect Pyotr Balinsky that required one of the above-ground stations to be located on Ploshchad Vosstaniya near Moskovsky Vokzal, the city's main railroad terminal.
Balinsky's project embraced 72 kilometers of above-ground railways and would have cost 190 million rubles to construct. Nobody had that kind of money, foreign investors were a myth, and the plan never materialized.
Ploshchad Vosstaniya continued to be the focus of unrealized transit schemes a century later. The huge hole behind Moskovsky Vokzal is all that has so far has come of the stalled multimillion dollar VSM (high-speed train) project of the mid-1990s.
But there were also technical problems with 19th Century Balinsky's project.
"Soil in St. Petersburg is tricky and difficult for any construction project," Nikitenko. "Underground water was too high to make the construction possible, while no efficient engineering solutions existed at the time."
One of the most unusual transport systems which was built in St. Petersburg before the Bolshevik Revolution in 1917 was a suspended railroad. The line operated in the nearby town of Gatchina from around 1900 but was not restored after the Soviets came to power.
The route of suspended railway was only 213 meters long, and each carriage accommodated up to twenty passengers. Located nearby the Gatchina palace, it was meant to serve noble clientele but everyone was allowed on board. A special stand is devoted to this exciting project, Russia's only metro system at the time.
If you have a keen interest in Russian metro, visit www.metro.ru. The exhibition runs through Feb. 27.
News source: sptimes.ru


Print this news
---
City news archive for 27 January' 2006.
City news archive for January' 2006.
City news archive for 2006 year.