Printed from: http://petersburgcity.com/news/city/2006/03/01/new_york/
City news, 01.03.2006 15:07
Governor Matvienko went to United States on a work-visit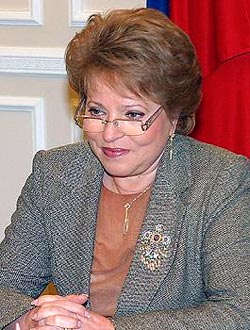 The head of "Morgan Stanley" company had negotiations with the governor. The final of which was an agreement about investment projects in Saint Petersburg. The "Morgan Stanley" company is consulting Saint Petersburg in the matter of West speed highway as well.
V. Matvienko met with the head of international insurance company and financial service "American international group" (AJP). The government of the company was interested in the matter of hypothec crediting.
Governor also met with biggest tourist and hotel operators of the USA. V. Matvienko wants American companies to be brought in the project of development Saint Petersburg as a tourist center. They also discussed the possibility of American companies partnership in building of Sea passenger stating is Saint Petersburg. Visa regime was talked about as well.
V. Matvienko stressed that she felt that American businessmen are interested in cooperation with Saint Petersburg.
News source: www.gov.spb.ru