City news
Russian governor targets U.S. investors
03.02.2006 15:09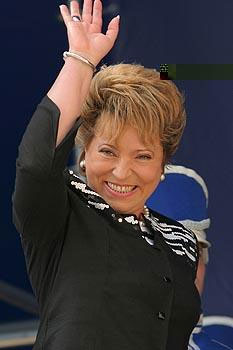 Valentina Matvienko, governor of St. Petersburg, said during a presentation here Tuesday (Feb. 28) to the U.S.-Russia Business Council that she has so far met with 15 potential investors. They included Morgan Stanley, AIG and Citigroup. The meetings are part of a multicity U.S. tour designed to attract investment to the St. Petersburg region.
"We think so far the trip has been successful," said Matvienko, who was accompanied by Russian federal and regional officials.
Matvienko said visits by regional governors to the U.S. should be increased because "it is at the regional level that we accomplish a lot for taking U.S.-Russian business relations forward."
"It's important to eliminate the stereotypes of how business is being conducted in Russia – that is one of my main goals here," said Matvienko, the first female governor in Russia and the first Russian governor to visit the U.S.
Matvienko also met with Robert Zoellick, deputy Secretary of State, to discuss preparations for the G-8 Summit hosted by St. Petersburg this summer.
The Russian delegation said it generated U.S. interest primarily in major infrastructure projects. "St. Petersburg has been implementing these large projects since 2004, with an overall cost of $5 billion, half of which we expect to come from private investment," Matvienko said. She added that U.S. companies are the city's largest investor, accounting for 19 percent of total foreign investment in St. Petersburg in 2005.
Matvienko said regional governments are best suited to work with U.S. investors. "Regions have all the necessary powers and rights for establishing pragmatic cooperation with foreign investors on all levels," she said.
Matvienko next visits San Francisco to meet with "large high-tech firms" in hopes of attracting investment in high-tech education and becoming business partners. "Twenty percent of the technical potential in Russia is in St. Petersburg," claimed Matvienko.
Matvienko predicted Russian admission to the World Trade Organization by the end of 2006, and said she hoped trade with the U.S. would be normalized once a 1974 U.S. law restricting trade with the former Soviet Union is repealed.
The Bush administration has begun lifting trade sanctions against Russia and other ex-Soviet states. Matvienko also met with American Jewish Congress officials here. Restricted Jewish emigration from Russia has been the main impetus for U.S. trade sanctions.
News source: www.eetimes.com


Print this news
---
City news archive for 02 March' 2006.
City news archive for March' 2006.
City news archive for 2006 year.