City news
Putin`s China visit shifts power
03.24.2006 15:23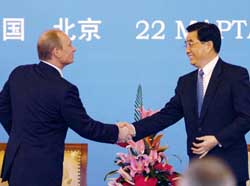 Russian President Vladimir Putin`s state visit to China has transformed the balance of power across Eurasia.
Russian Foreign Minister Sergei Lavrov told a press conference in Beijing Wednesday that the strategic partnership between the two giant nations was 'irreversible.' In all, 22 cooperation agreements between the two countries were signed during the two-day state visit, Lavrov said.
Putin`s visit did not even make the front page of the New York Times or the Washington Post Wednesday. However, it changed the global balance of power, said Ariel Cohen, fellow in Eurasia studies at the Heritage Foundation, a conservative Washington think tank.
'This is yet another shift in the strategic balance of power in Eurasia and it is an enormous strategic breakthrough for Beijing,' Cohen said. 'China and Russia as strategic allies are now controlling the Eurasian land mass from the South China Sea to the Baltic Sea.
While President George W. Bush focused on Iraq in his press conference Tuesday and U.S. policymakers hang tough against Iran on the issue of its nuclear program, Putin conducted far-reaching deals with billions of dollars to give the energy-hungry Chinese economy favorable access to Russia`s oil and natural gas resources. He signed no less than dozens of contracts with Chinese state organizations and companies during his visit.
Among the agreements, Russia`s gigantic utilities corporation, Unified Energy Systems, signed a contract to export electrical power to China`s State Grid Corporation. Rosneft and Gazprom, the Kremlin`s favored main oil and natural gas producing corporations, signed agreements to supply their natural resources and carry out joint ventures with the Chinese National Petroleum Corporation, RIA Novosti News Agency reported.
Gazprom Chairman Alexei Miller told the Itar-Tass news agency in Beijing Wednesday that a new 1,800 mile long gas pipeline from Russia to China would be completed in five years. Russia and China have been partners in the Shanghai Cooperation Organization, also known as the Shanghai Pact, since June 2001. But Moscow and Beijing are both emphasizing that the great success of Putin`s visit and the far-reaching agreements concluded during it will propel their global strategic partnership to higher levels than ever before, RIA Novosti said.
Even the Kosmicheskaya Svyaz and Chinanetcomgroup telecom giants closed a deal on providing international satellite television coverage from the 2008 Olympic Games in Beijing. Also, Shanghai Industrial Investment Corporation signed off on a giant development project in St. Petersburg, Russia`s second largest city.
Other agreements were signed for cooperation in outer space, civil aviation, agriculture, labor services and anti-terrorism cooperation, Lavrov said.
'Strategic cooperation between the two countries globally, regionally and bilaterally enjoys still wider prospects,' the official English language China Daily said Monday.
The growing 'exchanges in defense technology and coordination of military acts are of great significance,' the paper said.
Last August, Russia and China carried out the most extensive joint military exercises in their history. Although the exercises were billed as practice against terrorist threats they involved practicing tactical cooperation in combined land, sea and air operations that would be only required during a full-scale conventional war against mutual adversaries.
And before his visit began, Putin told the official Xinhua news agency in an exclusive interview that he wanted to vigorously further develop the strategic partnership between Moscow and Beijing.
'The fact that Putin brought an entourage of no less than 800 officials with him to China shows the immense importance that Russia put on it,' said Ted Galen Carpenter, vice president in charge of foreign and defense studies at the Cato Institute, a libertarian Washington think tank.
'The U.S. administration seems a bit disengaged about this development, perhaps a bit too disengaged,' Carpenter said.
Cohen said the energy agreements reached during the trip confirmed that Putin and the Russian policymaking elite had made a far-reaching decision to seek their future in a partnership with China rather than with either the United States or the European Union.
'Because of the agreements reached during Putin`s visit, China is receiving a stable energy supply from Russia,' Cohen said.
'The worries of the Russian elite of becoming a natural resource appendage of the West have ironically been realized by themselves, only they have agreed to become an energy appendage of China,' he said.
News source: news.monstersandcritics.com


Print this news
---
City news archive for 24 March' 2006.
City news archive for March' 2006.
City news archive for 2006 year.