City news
Local Innovator Plans to Process Waste With Technopark Project
04.07.2006 12:12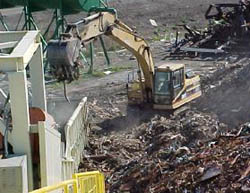 Local innovator, Mekhanobr-Tekhnika, is to use a waste-recycling plant as the basis for a new technopark for small and medium-sized companies, the company announced in a statement Tuesday.
The technopark, to be located in the Yanino district of the Leningrad Oblast, will be comprised of several production lines for the processing of wood, glass, plastic, rubber and metal extracted from solid domestic wastes. Mekhanobr-Tekhnika will provide both the raw materials and equipment.
"This is a pilot project. We are planning to develop technoparks on the basis of existing recycling plants in other regions in the future," said the general director of Mekhanobr-Tekhnika, Leonid Vaisberg.
Mekhanobr-Tekhnika will be a co-investor of the project and a co-founder of the managing company that will own the techno-park's assets. Total estimated investment is $15 million.
Georgy Bardashov, deputy head of City Hall's Housing Committee, which is supervising the project, said that reconstruction of the recycling plant will increase production and improve the quality of the end-product — compost — which at the moment does not meet many standards.
As a result of the redevelopment, due for completion by the middle of May, the volume of processed garbage will increase from 600,000 cubic meters to 900,000 cubic meters a year. Once the plant is fully operational in 2008, it will process as much as 1.8 million cubic meters annually.
The plant will supply 75 percent of the technopark's raw materials. Between five percent and ten percent of materials will come from separate garbage collections, which have already been started in several city districts; about 20 percent should be supplied by rubbish collecting companies.
Garbage sorting should increase the profitability of recycling waste from its current level of 10 percent up to 25 percent, Vaisberg said.
"The cost of production with secondary raw materials is 2.5 times lower: if one ton of a basic type of rubber costs $800, one ton of rubber produced with waste costs $300, and there is no limit to its uses," Vaisberg said.
Lidia Lazareva, PR specialist at Mekhanobr-Tekhnika, indicated Elast, Plastpolimer and Khetek as likely technopark tenants.
"The project was created specially for small and medium companies. They will receive grants, the equipment will be paid off within a year to a year and a half, which, for small firms, is important," she said.
Those companies registered in the technopark will pay low rents and have the opportunity to buy equipment using leasing schemes offered by the Industry and Construction Bank, Vaisberg said.
Yury Shevchuk, chairman of Green Cross, a St. Petersburg-based ecological organization, said that St. Petersburg produces about six million cubic meters of domestic waste and about four million cubic meters of industrial waste annually.
"Bio-composting technology can only help with the recycling of domestic waste — its application is limited," he said.
According to Shevchuk, recycling all the city's domestic waste would require plants with a production capacity of 4.5 million cubic meters. It would be achieved only with the Yanino plant working at full capacity and if production at the existing plant in Gorelovo was increased from its current level of 1.1 million cubic meters to 2.5 million cubic meters per year, he said.
Shevchuk also suggested creating a small plant in Kolpino to avoid transporting waste over a long-distance.
According to statistics, only 20 percent of garbage in St. Petersburg is recycled, while 80 percent is buried in random tips — about 250 such sites can be found in the Leningrad Oblast.
For comparison, in industrially-developed Europe only about 10 percent of waste is buried, 40 percent is recycled, while 50 percent is burnt. In Russia in general only three percent of waste is recycled.
To solve the problem of illegal dumping, Shevchuk suggested that transporters of rubbish should only be paid after delivery to the recycling plant and not before, as is currently the case.
By Yekaterina Dranitsyna
Staff Writer
News source: sptimes.ru


Print this news
---
City news archive for 07 April' 2006.
City news archive for April' 2006.
City news archive for 2006 year.